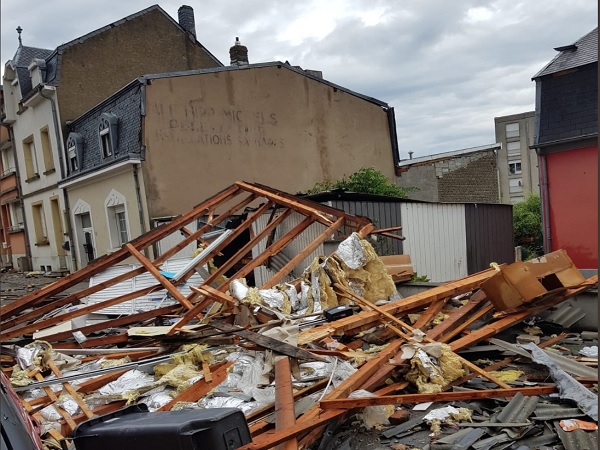 Tornado aftermath in Pétange in August 2019; Credit: CGDIS
Following the tornado of 9 August 2019 in the southern Luxembourg towns of Pétange and Käerjeng, the government has granted ten households a total of €168,606 of financial support.
Those affected by the tornado were able to apply for social assistance (namely for basic needs) from the Ministry of Family, Integration and the Greater Region. The Ministry has announced that it has so far received 60 applications for social assistance, 23 of which have been assessed by the Social Relief Committee (Commission des secours sociaux) requested in the aftermath of natural disasters.
The Social Relief Committee is composed of representatives of the Ministry of Family, Integration and Greater Region, the Luxembourg Inland Revenue, the Ministry of the Interior, the Inspectorate of Finance, the Public Building Administration, the Ministry of the Economy, the Rural Economy Department, the Ministry of Administration of Technical Agricultural Services and the Insurance Commission.
To date, ten households have been granted financial support worth a total of €168,606.
On the other hand, thirteen requests were refused for the following reasons: insurance taking care of the damage; ineligible damage (eg to a car, garden shed, fence...); damage related to a second home.
The Ministry added that 37 applications are incomplete and remain outstanding until the required documents have been provided. Following this, the applications will be forwarded to the Social Relief Committee, which is set to meet again during the second week of December.
Since requests for social assistance were still submitted to the ministry after the 1 November deadline and the department has decided to give everyone affected by the tornado an opportunity to apply, the deadline for submission of applications has been extended to 1 March 2020.
The application forms can be downloaded from the Ministry's website at https://mfamigr.gouvernement.lu/fr/le-ministere/attributions/solidarite/catastrophes-naturelles.html and from guichet.lu.