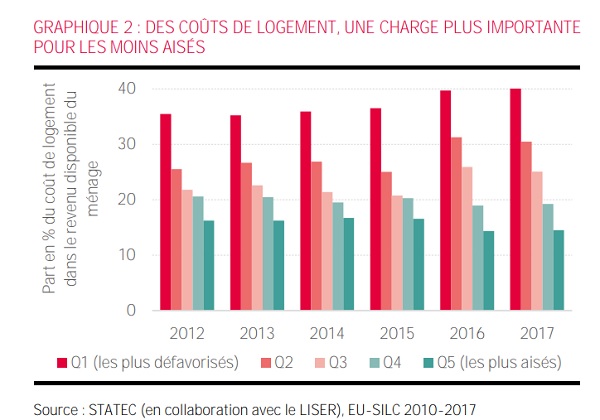 Credit: Statec
In its latest "Regards" report, the national statistical agency Statec has detailed the exacerbation of inequalities in Luxembourg by rising housing prices.
According to Statec, the cost of housing in the Grand Duchy increased by 5.4% between 2011 and 2018. Indeed, housing continues to be the largest expense for residents: the latest "Travail Cohésion Social" ("social cohesion work") report by Statec revealed that housing prices constituted over half of the earnings of lower income households.
In this context, Statec's latest report has analysed how rising housing costs have exacerbated inequalities with regards quality of life in Luxembourg. In this study, the lowest income households belonged to the 20% of households with the lowest standard of living, whilst the wealthiest households belonged to the 20% of households with the highest standard. Indeed, the study found that lower income households were most affected by rising housing costs in recent years (20%) than wealthier households (7%).
Considering these increased prices, the risk of poverty rate has increased from 15.8% in 2017 to 24% of the population.