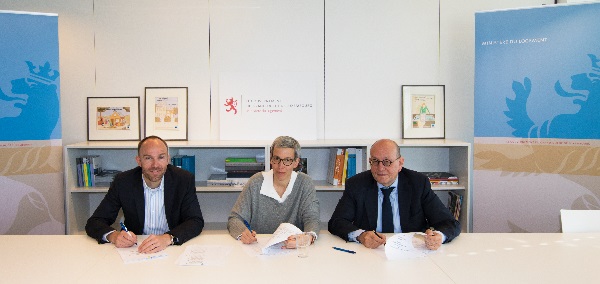 L-R: Guy Entringer, director of the SNHBM; Sam Tanson, Ministers of Logement; Patrick Gillen, President of the Kirchberg Fund; Credit: Ministry of Housing
The Kirchberg Fund, the SNHBM (national society of affordable housing) and the Luxembourg Ministry of Housing today signed an agreement to increase the supply of affordable rental apartments in Kirchberg.
The creation of affordable housing, especially near the workplace, is considered one of Luxembourg's biggest challenges. In order to promote the rental sector in particular, the Kirchberg Fund (Fonds Kirchberg) and the SNHBM, in collaboration with the Ministry of Housing, have developed an innovative rental model that allows, in several stages, a minimum of 440 affordable rental apartments.
When signing the agreement, Housing Minister Sam Tanson said, "The tense housing market is forcing us to innovate to provide affordable housing for more people. The apartments marketed according to this model by the Kirchberg Fund and the SNHBM meet our most important requirements. They are centrally located, offer excellent quality of life and remain affordable!"
The first 48 apartments, built by the Kirchberg Fund, will be managed by SNHBM. Rents will be scaled according to income and type of housing, thus allowing a social mix in the "Kiem" residential area. Compared to traditional social rental housing, this pilot project aims to allows a wider segment of the population to rent an apartment at prices below the market level.
For more information, visit www.snhbm.lu/location.