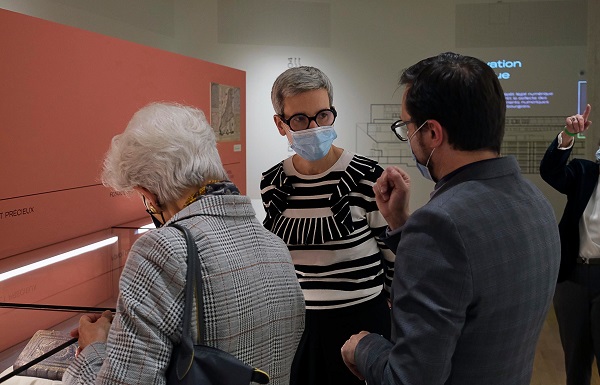 L-R: n/a; Sam Tanson, Luxembourg's Minister of Culture; Claude D. Conter, Director of BnL; Credit: BnL
The exhibition "BnL - autoportrait d'une bibliothèque" (self-portrait of a library) is now on display at the National Library of Luxembourg (Bibliothèque nationale du Luxembourg - BnL).
Luxembourg's Minister of Culture, Sam Tanson, and the Director of the BnL, Claude D. Conter, inaugurated this new exhibition on Wednesday.
The exhibition allows visitors to take a look behind the scenes of the BnL, get to know how it works, its employees and their daily missions. Visitors will discover the library in six stages through multimedia projections, explanatory videos and interactive installations. A range of publications from the various library holdings is also highlighted.
Among the documents on display are the Codex Mariendalenis is a manuscript on vellum, dating from around 1325, a handwritten score by Joseph Christophe, dedicated to Wilhelmina Helena Pauline Maria of the Netherlands, from 1883, original engravings and Luxembourg artist books, as well as commemorative cards and catalogue cards from old libraries.
The exhibition is freely accessible during the opening hours of the BnL. Entry is free and wearing a face mask is compulsory.
The exhibition runs from 14 October 2021 until 26 February 2022. During this period, the BnL is offering a series of thematic tours. Further details, including registration, are available at www.bnl.lu.