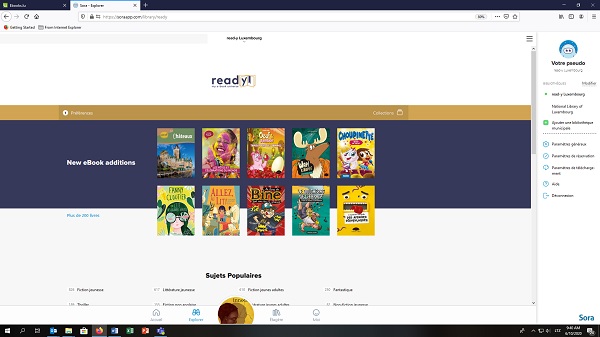 Luxembourg's Ministry of National Education, Children and Youth and the National Library of Luxembourg (more widely known by its French abbreviation BnL) have announced that they are launching, with the support of Digital Luxembourg, a digital library for secondary school students: read-y.
The initiative intends to contribute to fostering a taste for reading for pleasure among young people, as a freely chosen hobby without financial constraints. The summer holidays will be an opportunity for young readers to discover the richness of this digital library.
With read-y, secondary school students who attend public or private schools applying the national curriculum can now access free of charge more than 20,000 digital books, mainly in English, German and French. Their teachers, as well as school administrators and librarians, also have access to it.
read-y does not replace or modify the collective reading activity in the classroom. The selection of books is therefore not based on national school curricula. The project is intended above all as an additional encouragement for individual reading thanks to the easy and wide access to young adult literature.
In concrete terms, read-y can be accessed either via the Sora reading app or via the ready.script.lu site; the connection is made with the IAM account. For students using a tablet made available by the Ministry of Education, the app will be installed automatically.
Young people over 14 in possession of a card from the BnL or one of the public library partners of ebooks.lu will also be able to borrow the read-y content. From mid-July, the read-y offer will be integrated into the existing ebooks.lu offer of more than 150,000 ebooks and will also be accessible via the BnL search engine a-z.lu.
read-y, which is accessible on smartphones, tablets and computers, has many practical features such as offline reading, the option to reserve books already in consultation, search for definitions in the integrated dictionary and the possibility to add and keep notes and comments.
read-y is an evolving project and new books will be regularly added to the offer.
A poster campaign will spread the news to young readers in secondary schools in early July and by the end of the school year, students will receive a user guide in three languages.