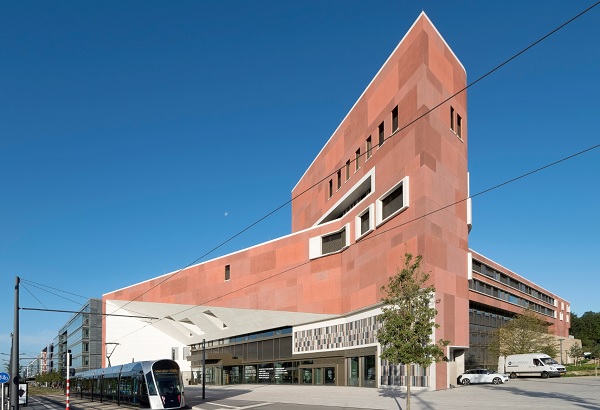 Bibliothèque nationale du Luxembourg; Credit: BnL
Monday marked the inauguration of the National Library's (BnL) new site in Luxembourg-Kirchberg, under the auspices of François Bausch, Minister of Mobility and Public Works, Sam Tanson, Minister of Culture, Monique Kieffer, Director of the BnL, and Jean Leyder, Director of Public Building Administration.
The inauguration brought together representatives from eleven national libraries in Europe, including those of France, Germany, Belgium, the Netherlands, Switzerland and the UK. Indeed, the British Library's CEO, Roly Keating, who is also the current President of the Conference of European National Librarians (CENL), delivered a keynote speech on "Building Libraries for the Future".
The new BnL brings together all its documentary collections and services on a single site. The new building decisively resolves the structural problems of the National Library related to what its old infrastructures lacked. It provides it with the necessary equipment to carry out its national missions in its capacity as the custodian of the nation's written heritage and as the central documentation platform of the country.
The groundbreaking ceremony was held in June 2014. After more than ten years of planning, five years of construction and four months of relocating more than 40 km of documents, the new BnL will open its doors to the public today, Tuesday 1 October 2019, from 14:00. The opening hours have been extended: Tuesday to Friday from 10:00 to 20:00 and Saturdays from 10:00 to 18:00.
All the services of the BnL will be functional again including, among others, loaning and returning documents, on-site consultations, international loans and free registrations. In addition to the existing offer, new services include automatic self-loan, 24-hour return, consultation of valuable collections in a specialised reading room, eleven group rooms, a music room and audio booths. All these rooms can be booked via the website https://booker.bnl.lu.
The BnL's new building houses more than 1.8 million physical documents covering all areas of knowledge. 200,000 works of international and Luxembourgish origin are directly accessible in the reading room. Conference rooms, training rooms, a small amphitheatre and a showroom also contribute to the BnL's efforts to expand its offer of lifelong training, cultural and educational activities.
From October to December 2019, the BnL will be in the testing phase to evaluate its new services and adjust its offer, if necessary. The public is invited to explore the new library and to test the many services available to them. Indeed, an open day will be taking place this weekend (Saturday 5 October and Sunday 6 October 2019), featuring self-guided tours, readings, workshops and presentations, concerts and events for young people and adults.