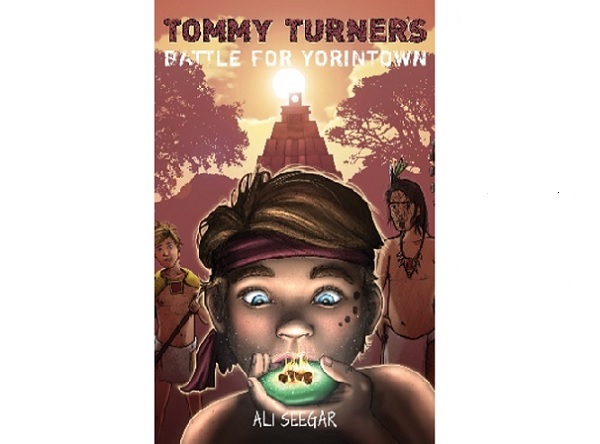 Luxembourg resident author, Ali Seegar, is launching her second children's novel on 1 July, "Tommy Turner's Battle for Yorintown"; the book is partly set in Mexico where Ali spent a year in her late teens and became fascinated by Maya history and pyramids.
As part of the Tommy Turner's Travels series (the first book in the series "Tommy Turner's Tremendous Travels" received great praise), this second instalment is another fun-filled time-travelling adventure for children aged 8-12 years. This time, Tommy finds himself in an ancient Maya city in a race against time to save an alien planet...
It's true that Tommy Turner wanted another adventure, but he never expected to be sucked headfirst into a bottle! Or to discover that, of all the creatures in the entire universe, only he can save an alien planet from dying. He certainly didn't mean to time-travel with Uncle Harry and Digby to the great ancient Maya city of Pakatoka, where they must save themselves before they can find the pyramid with the secret chamber. But the fact is, when you're a time-traveller, anything can happen… A thrilling new race-against-time tale from the Tommy Turner adventure series.
From 1 July, Tommy Turner's Battle for Yorintown and Tommy Turner's Tremendous Travels are available at all good bookshops and online outlets in paperback and ebook.
On Saturday 29 June, Ali Seegar will be reading from "Tommy Turner's Battle for Yorintown" at the All English Booktstore (4 rue de la Reine, L-2418 Luxembourg-ville) at 14:00.
About the Author
Ali Seegar spent most of her childhood days imagining fantastical adventures in other worlds — when not off on an adventure herself in the rural Kentish landscape. Now, after a career writing professionally for other people, she is bringing her own tales to life – through the eyes of Tommy Turner, a boy who finds he is an unlikely hero. She is currently working on the third book in the series.