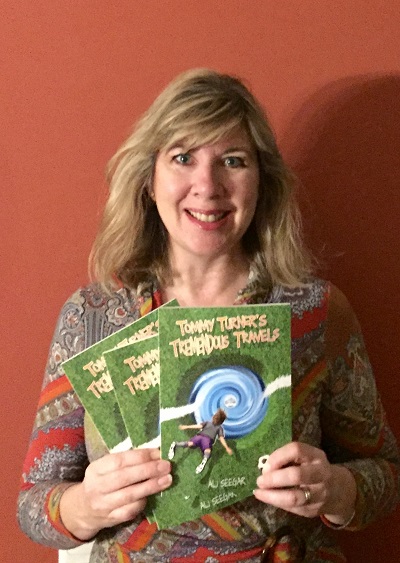 Tommy Turner's Tremendous Travels is the 1st published book written by local author Ali Seegar, who will be signing copies at the All English Bookstore (4 rue de la Reine, Luxembourg-ville) between 15:00 and 17:00 on Sunday 18 December 2016.
Tommy Turner's Tremendous Travels is an action packed adventure story for ages 8-12.
Tommy doesn't feel much like a hero, and who would, with an unbearable family, new school "blues" and the threat of the Higgins Twins' fists on Monday morning. But then a chance meeting with old Mr Petrovsky propels Tommy into a time-travelling, adventure-chasing double life. By day he's just a normal, messed-up football-loving kid but his nights are spent visiting aliens, fighting mythical creatures and even winning the World Cup! But can he learn to win at school, too? And, when Mr Petrovsky tells Tommy about his childhood escape from Russia, will he have the courage to become a real hero? A time-travelling, edge-of-your-seat adventure for 8-12 year olds with illustrations by Patrick Hawkins.
For further information, see www.tommy-turner.com or email: hello@tommy-turner.com