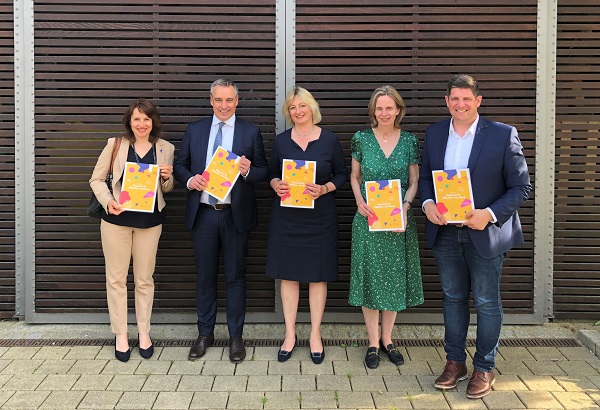 (L-R) Maren Lambrecht-Feigl, Council of Europe; Luxembourg Education Minister Claude Meisch; Marguerite Krier, Luxembourg Education Ministry; Anne Goedert, Luxembourg Foreign Ministry; Gilles Dhamen, Luxembourg Education Ministry; Credit: MENEJ
Last week, Luxembourg's Ministry of Education, Children and Youth launched a project to strengthen the monitoring and evaluation of children's rights and to establish a mechanism for consultation with relevant actors in Luxembourg.
The project will last eighteen months and, according to the ministry, is in line with the commitment made in the two national action plans on children's rights, adopted in 2022.
The aim is to assess the current state of practice and processes in the field of children's rights in Luxembourg. A collection of indicators will be developed, as well as guidelines for data collection and a framework for consultation with children and stakeholders.
A roadmap will be developed to monitor and evaluate the implementation of children's rights, child poverty and social exclusion and to support the effective participation of children.
The project is funded by the European Union and implemented by the UNICEF Regional Office for Europe and Central Asia, in cooperation with the European Commission's Directorate-General for Structural Reform Support (DG REFORM).
On the occasion of the project's launch, Claude Meisch, Luxembourg's Minister of Education, Children and Youth, highlighted the importance of the evaluation and monitoring of measures that promote the well-being of children and their parents. The minister thanked the many actors gathered for their commitment.
The heads of UNICEF's Regional Office for Europe and Central Asia and the European Commission then presented the project and its key stages. Vice Chair of the UN Committee on the Rights of the Child (CRC), Hynd Ayoubi-Idrissi, clarified the CRC's position on monitoring, evaluation and child participation. She highlighted the benefits of child consultation forums in the light of the memorable motto: "Nothing for us without us".
At the end of the session, the steering committee comprising representatives of the ministries involved, the judicial authorities, administrations, scientific and research institutions, the Federation of Social Sector Actors in Luxembourg Asbl (FEDAS) and the "Ombudsman fir Kanner a Jugendlecher" (OKaJu) met for a first working meeting.
The Education Ministry described the discussions as fruitful and constructive, envisioning the new collaborative project outlined in the national action plan 2022-2026 "Zesumme fir d'Rechter vum Kand" (Together for the rights of children).