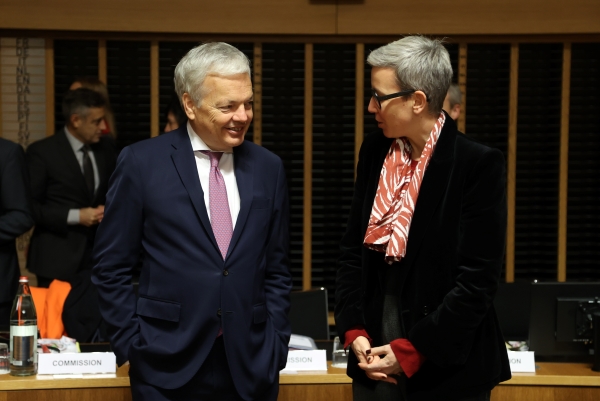 (L-R) Didier Reynders, European Commissioner for Justice; Sam Tanson, Minister of Justice of Luxembourg; Credit: European Union
On Thursday 13 October 2022, Luxembourg's Minister of Justice, Sam Tanson, participated in the Justice and Home Affairs Council under the Presidency of the Czech Republic, bringing together the Ministers of Justice of the European Union (EU) in Luxembourg.
During the exchanges on the situation in Ukraine and the collective judicial response of the Member States, Minister Tanson underlined that the fight against impunity for international crimes committed on Ukrainian territory must not continue unabated. The Minister also welcomed the unprecedented mobilisation on the side of the judicial authorities and civil society in the collection of evidence on the ground. In Luxembourg, a system has been put in place in the first reception structures, in order to inform applicants for temporary protection of their possibility of testifying about what they have experienced. The need to effectively implement the sanctions imposed on Russia was also underlined.
The ministers had the opportunity to assess the progress of the draft directive on environmental crime. Minister Tanson noted the importance of this proposal for a directive, clarifying existing definitions and providing for adequate sanctions, in order to strengthen legal certainty and to fight environmental crime more effectively.
The European Commission and the Presidency briefed ministers on the latest developments regarding the functioning of the European Public Prosecutor's Office (EPPO). Minister Tanson underlined the important role of the European Public Prosecutor's Office, being an essential and systemic player in the protection of the financial interests of the European Union. It offers a decisive advantage when investigations are of a cross-border nature, having access to a powerful case management system which makes it possible to establish links between different investigations and by quickly organising coordinated investigative measures. Minister Tanson spoke in favour of extending the powers of the European Public Prosecutor's Office to violations of restrictive measures imposed by the European Union.
The ministers also had an exchange of views on judicial training and its impact on access to justice in the rule of law.