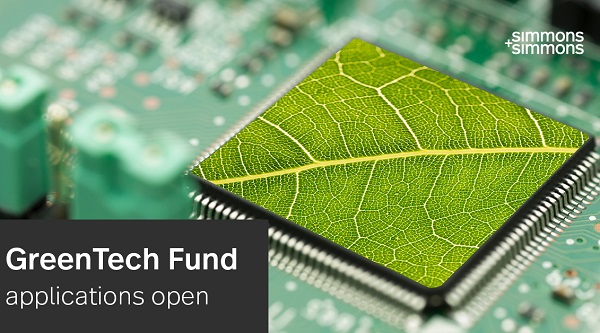 Credit: Simmons & Simmons
Simmons & Simmons, an international law firm with an office in Luxembourg, has announced the launch of a new GreenTech fund, which will support startups that are focused on using technology to mitigate the climate and biodiversity emergencies.
The fund will award £100,000 of legal advice from across Simmons' network to four businesses that are innovating in order to try and avoid or limit the worst effects of the climate crisis.
The GreenTech fund is now open to applications from businesses seeking to utilise technology to restore environmental balance and biodiversity and to tackle climate change. Applicants are invited to share their entries via video between now and the deadline on 31 December 2021. Eligibility criteria and the application process can be found on the Simmons website.
The initiative is being led by members of the firm's environmental sustainability network (the green room) and involves a collaboration with a number of investors, accelerators and incubators who have a particular focus on sustainability, including: Techstars, Entrepreneur First and Illuminate Financial.
Commenting on the GreenTech fund, co-lead of the green room, Ali Crosthwaite, said: "In common with many organisations, Simmons is looking for ways to maximise its positive impact and the GreenTech fund is an attempt to achieve that by sharing our skills with businesses that are actively seeking solutions to the crisis in which we find ourselves – we will need multiple solutions and we firmly believe that collaboration is our best hope".
Delphine Mailloc-Amand, M&BD Manager at Simmons & Simmons Luxembourg and member of the GreenTech Fund steering committee, added: "It will be an honour for us to support passionate start-ups that help communities and businesses to live and act sustainably. I know there are outstanding Greentech start-ups doing their bit in Luxembourg and that's why I strongly encourage them to apply".
The GreenTech fund is an evolution of the FinTech fund that Simmons launched in 2016, which was created to help early stage fintech businesses navigate the legal problems faced by many fast growth companies in their early years. The initiative proved successful, with the firm supporting Marshmallow in becoming one of the United Kingdom's most recent fintech unicorns.