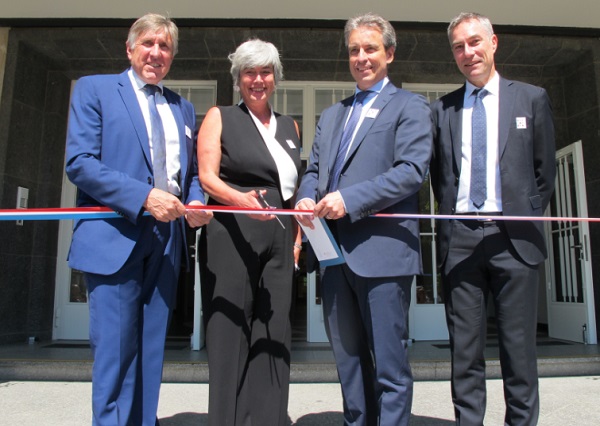 L-R: François Bausch, Minister of Sustainable Development and Infrastructure; Karin Pundel; Claude Meisch, Minister of National Education, Childhood and Youth; Jean Leyder; Credit: MDDI
On 29 June 2018, the newly renovated Institut national des langues (INL) building was unveiled.
Luxembourg Minister of Sustainable Development and Infrastructure François Bausch and Minister of National Education, Childhood and Youth Claude Meisch yesterday oversaw the inauguration of the new INL building following its transformation.
The Luxembourg State began construction of a new building on the Boulevard de la Foire on behalf of the ECSC between 1956 and 1959. After the final move of the European School to Kirchberg in 1998, the INL moved to the vacated building in 2000. The building has since undergone many transformations of compliance and adaptations according to the various needs of the occupant.
Construction began in February 2016. During the transformation and modernisation works, the INL was moved to temporary pavilions located on the "Eurocontrol" site in Kirchberg. This relocation made it possible to carry out the remediation and conversion work more quickly and to avoid disturbing occupants with construction.
In the spring of 2018, the INL reinstated its main building in Glacis, which was completely renovated after 30 months of work. As part of the current renovation project, the extension of the ground floor of the Glaci" wing has increased the area reserved for classrooms by 25%. In order to minimise waste, the exterior facades have been thermally insulated to also solve the problems of cracking plaster. Energy sanitation also includes the insulation of roofs, cornices, reinforced concrete awnings and basements. All existing windows made of aluminum frames have been replaced by wood-aluminum windows with external blinds.
In parallel, a project to reorganise the old canteen into examination rooms was carried out by the Concept4U architecture office. The INL thus has 9 new examination rooms intended mainly for oral examinations.
The total budget of the transformation was €13,000,000.