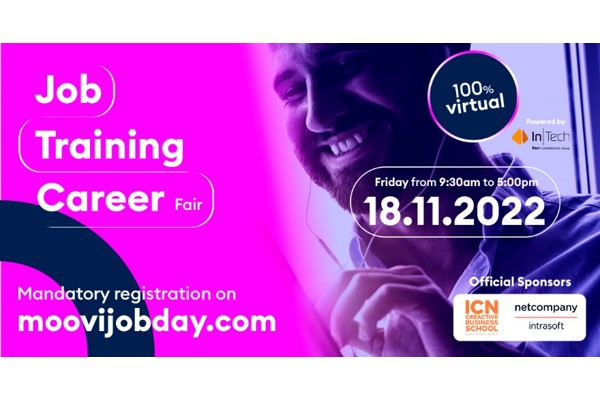 Credit: Moovijob
Luxembourg job board and recruitment events organiser, Moovijob, has announced that after the first edition of the year, which took place at Luxexpo The Box on Friday 25 March 2022, the Moovijob career fair will be organised again this Friday 18 November 2022, in a virtual format.
On Friday, from 09:30 to 17:00, several companies, from large international groups to small and medium-sized and even training institutes, will exchange with the participants and offer them numerous professional opportunities in all sectors in this online edition.
This year, participants can connect at any time of the day and conduct as many interviews as they want. Moreover, one of the main new features of the platform is the privacy settings optimisation, which have been refined to better meet the needs of the participants. Participants can choose to hide their profile from all companies or from certain companies only.
"Organising an event as large as the Moovijob Day Luxembourg in two different formats enabled us to realise the advantages and inconvenience of each other, but most importantly: the complementarity they offer. The virtual format breaks down some of the barriers that are inevitable in physical events, such as commuting time, on-site parking or standing in a line. In virtual, companies can conduct as many interviews as they want and visitors can join three different companies' queues at the same time, which is a real superpower", said Yannick Frank, Luxembourg director at Moovijob.
Further information is available online at: https://en.moovijob.com/events/moovijob-day/luxembourg.