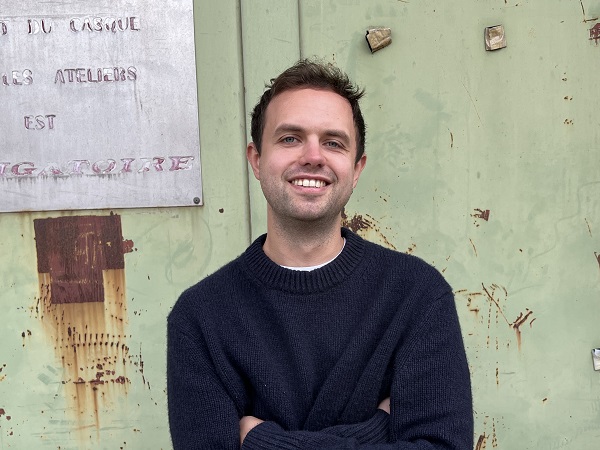 Tom Clarke, the new face (or voice) of ARA City Radio's Breakfast Show; Credit: Radio ARA
ARA City Radio has announced that Tom Clarke is taking over from Sam Steen as the host of its weekday Breakfast Show.
As Sam leaves ARA after twelve years, Tom is joining newsreaders Simon Claridge and Jazmin Campbell for those early-morning shows.
"We wish Sam all the very best in the future, and are excited to have Tom taking over the desk, we look forward to fresh new music and vibes on the morning airwaves, and I am confident Simon and Jazmin will help him get the hang of the early mornings", said Lisa McLean, coordinator of the international programmes on Radio ARA.
Having grown up in Luxembourg, Tom is no newcomer to Radio ARA, as he made his debut on the Graffiti youth show over twelve years ago, with his show "The Meltdown". After graduating from the European School Luxembourg, Tom left the Grand Duchy to study at the University of Glasgow, where he quickly became involved in the dynamic music scene there. He went on to work as a concert programmer, as well as branching out with his own music production and DJ sets. His music has carried him around Europe and the USA touring as a DJ and performing live whilst making shows for radio stations like NTS, Rinse FM, Red Light Radio, Dublab, The Lot Radio, Mutant Radio and more.
Fluent in English and French, when asked about his plans for the Breakfast Show, Tom was reticent: "I want to bring my own style to the show, yet there are so many great features, but so many new ideas. I am looking forward to discovering with the listeners what works and what their preferences are. I am also excited about the growth I've witnessed in the Luxembourg music scene; so [I] am looking forward to connecting with many of the musicians here as well as tapping into my international network of musicians for interviews".
From 29 November 2021, listeners can tune into the ARA City Radio Breakfast Show with Tom Clarke and the team, Monday to Friday from 06:30 to 09:30 on the Radio ARA network, 102.9 and 105.2FM, or online at aracityradio.com.