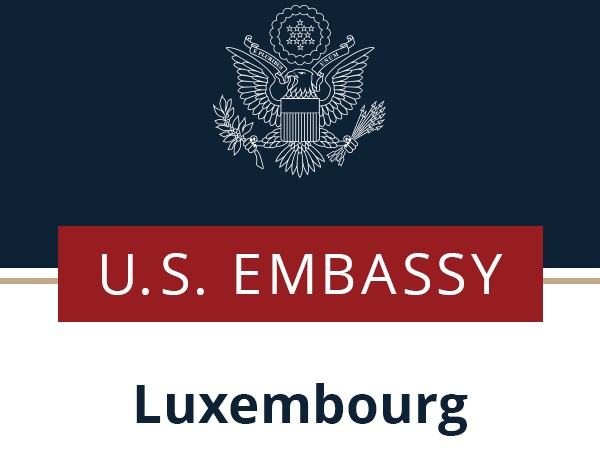 Credit: US Embassy Luxembourg
The US Embassy in Luxembourg has announced that it is hiring a full time (40 hours / week) Public Affairs Assistant.
This is a full-time (CDI) position for a one-year period on hiring. Applications are due by 21 September 2021.
The role requires:
working under the direct supervision of the Public Affairs Officer (PAO);
monitoring traditional press and digital media coverage of issues of importance to the US;
identifying and advising Mission Luxembourg leadership on strategies for promoting accurate, balanced press and digital media coverage of US foreign policy and American interests in Luxembourg, correcting misinformation and countering disinformation;
maintaining Mission digital properties (social media, website content, mobile);
building productive relationships with press and media professionals in Luxembourg both in person and online;
coordinating closely with the Public Engagement Coordinator to plan and implement messaging efforts (including press and social media coverage) in support of programme activities;
drafting correspondence, briefing papers, speeches and media advisories.
A minimum of four years of progressively responsible experience in a media outlet, think tank, university, non-profit, international organisation, foreign embassy, government office or corporation is required. Applicants should also have a university degree in Journalism, Communications, International Relations, Marketing, Political Science, Economics or local equivalent.
All vacancy announcements are posted in the Department of State's Electronic Recruitment Application (ERA). To be considered for hire, applications MUST be submitted via ERA. Applicants are required to attach the requested documents as specified in the vacancy.
Further details on benefits, salary and how to apply are available at https://erajobs.state.gov/dos-era/vacancy/viewVacancyDetail.hms?_ref=rldpselrpt0&returnToSearch=true&jnum=27210&orgId=133.
Interested applicants are advised to submit their applications as early as possible. Further information can be obtained via email: BrusselsRecruitment@state.gov.