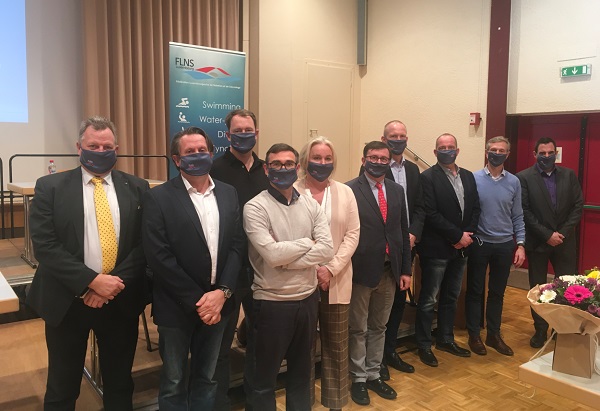 Credit: FLNS
On Saturday 21 November 2020, Luxembourg's swimming federation, the FLNS, held its Ordinary General Assembly at the Centre de Loisirs in Lamadelaine.
Cercle Nautique Pétange, which is celebrating its 40th anniversary this year, hosted this meeting. In the presence of founding member John Polfer, the current president of the swimming section of the CNP, Guy Berchem, welcomed the club representatives, the board of directors of the FLNS and guests.
Christiane Meynen, Secretary General of FLNS, read out the greeting message from Luxembourg's Minister of Sport Dan Kersch, who was unable to attend in person. The minister praised the FLNS for hosting the Euro Meets, which have become a flagship of Luxembourg on the international stage. He certified that the FLNS had successfully managed the sanitary crisis and confirmed that €235,000 from the Qualité+ programme had been paid out to the swimming clubs. At the same time, however, he warned of possible funding cuts in the sport.
Ralf Lentz, board member of the Comité Olympique et Sportif Luxembourgeois (COSL), and Alwin de Prins, Director of the Luxembourg Institute for High Performance in Sports (LIHPS), then addressed participants.
In his speech, FLNS President Marco Stacchiotti reflected on the past season. Despite the impact of the COVID-19 pandemic, Luxembourg's swimmers set 24 new national records and 28 best performances at the Military World Championships, the European Short Course Championships and other national and international competitions. The careful work of a COVID task force paved the way back to the pool. Through sophisticated hygiene concepts, water polo players, synchronised swimmers, diving enthusiasts and swimmers alike have been able to train again under certain conditions since the beginning of June.
After constructive discussions on the submitted interpellations, the fourteen delegates (only one representative per club allowed) of the FLNS associations granted discharge to the old board of directors composed of President Marco Stacchiotti, General Secretary Christiane Meynen and Vice President Finance Jean-Louis Beckers.
The election of the new board of directors was next on the agenda: Marco Stacchiotti's team was approved with 67 votes in favour, 36 abstentions and elected for two years. Olaf Chalmer (Masters / Open Water), Georges Hansen (lifesaving), Jean-Marc Gregorius (water polo) and Marc Seimetz (legal advisor) are leaving the board. The new board includes Benoît Grosch (CNDie) for water polo, Nico Prickaerts (CNDie) for lifesaving, Patrick Juncker (Sharks) for Masterssport and Open Water, Pierre Dochem (Sharks) as legal advisor and Björn Poels (SL) for external training.