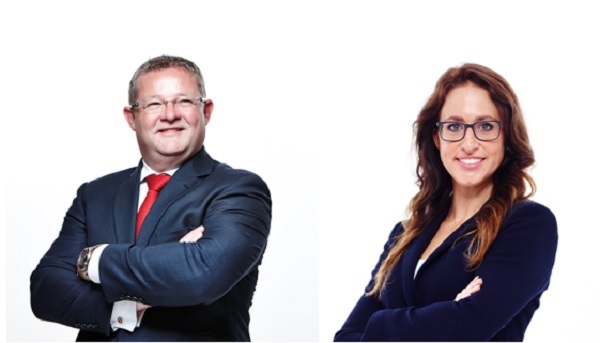 (L-R): Jimmy Pledger, Hana Prochaska, Aztec Group;
Leading independent fund and corporate services provider, the Aztec Group, has made 54 promotions, including two senior appointments in its Luxembourg office.
Following the Aztec Group's end-of-year appraisals, they have recognised and rewarded nearly 25% of their employees in Luxembourg. Of those promoted, two appointments to director and associate director were also announced, significantly strengthening their local leadership team.
Jimmy Pledger has been promoted to director. Having joined the Group in 2015, Jimmy initially supported the development of their private equity team in Jersey before relocating to Luxembourg in 2016 to oversee ongoing development of the business and the office's accelerated growth to now over 220 employees. Jimmy has over 30 years' experience in accounting, audit, risk and compliance and is a Fellow of the Association of Chartered Certified Accountants. He also holds an International Diploma in Anti-Money Laundering.
Hana Prochaska has also been promoted in Luxembourg; she is now an Associate Director within the Group's Business Development team. Hana joined the business in 2011, initially working in fund administration before moving into business development in 2016. Since then, Hana has focused on building client relationships, strengthening new business pipelines and helping to drive their organic growth strategy. In her new role, Hana will lead all business development activities across Continental Europe.
Aztec Group has promoted nearly 200 employees across its seven offices, in the past 12 months.
Alan Ross, Managing Director of the Aztec Group's Luxembourg office, commented "I am delighted that 54 people have been recognised and rewarded in this round of promotions. It is a wonderful endorsement of the talent we have within the business and I am proud of each individual employee's success. As a business, we are committed to the continued professional development and progression of our employees. I would also like to congratulate Jimmy and Hana on their directorships, I am looking forward to working closely with them as we continue to drive are organic growth strategy in Luxembourg."
Established in 2001, the Aztec Group employs 700+ people across Guernsey, Jersey, Luxembourg, the Netherlands, Sweden and the UK. Owner-managed, the Group administers over 300 funds and 2,600 entities for a range of clients, including private equity, real asset and debt fund managers, institutional investors and multi-national corporations.