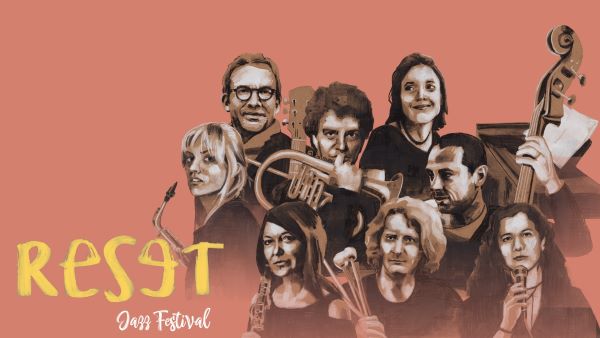 The sixth edition of Luxembourg's RESET jazz festival will take place in Luxembourg-Clausen and Luxembourg-Grund from Monday 23 to Saturday 28 January 2023.
This edition of the festival is curated by composer and vibraphonist Pascal Schumacher, who has brought together eight artists from Belgium, France, Germany, Italy, Luxembourg, Turkey, Portugal and Russia.
During the residency of several days on the site of Neumünster Abbey (neimënster), the artists will exchange ideas through personal acquaintances and sound experiments, and the result of their work sessions will be presented during three evenings, including a closing concert of the residency which will bring together all the participants on the main stage of neimënster.
This year's musicians are: Luxembourgish guitarist Greg Lamy; Russian saxophonist Olga Amelchenko; Portuguese contrabassist Nelson Cascais; German drummer Jens Düppe; French clarinet player Élodie Pasquier; Turkish singer and vocalist Cansu Tanrıkulu; Belgian pianist Margaux Vranken.
Since its launch, the RESET festival has allowed artists to forge links that go beyond neimënster. Recently, singer Kristin Berardi and bassist Franzi Aller (RESET 2021) came together a Pause concert, while guitarist Greg Lamy (RESET 2023) and saxophonist Tineke Postma (RESET 2018) performed together at the Blues'n Jazz Rallye (2022) and will return again for a Pause concert in 2023. In addition, the harpist Julie Campiche and the composer Sven Helbig (RESET 2019), who both performed at the DAVE festival in Germany, and Veronika Harcsa and Jan Brauer - present at neimënster in 2018 - who regularly return to Luxembourg, are also examples of new collaborations. The Hungarian singer joined the Next.Ape project with Luxembourg keyboardist Jérôme Klein, while the German DJ mixes at trendy parties.
The class of 2020 participated in the Resonanzen festival in Saarbrücken (Germany), the first satellite event in the Greater Region born from the RESET residency. From this edition, British trumpeter Yazz Ahmed has become a regular on Luxembourg stages. Finally, Airelle Besson (RESET 2018) ended her European tour with a concert from the Pause series in December 2022.
More information is available online via https://www.neimenster.lu.