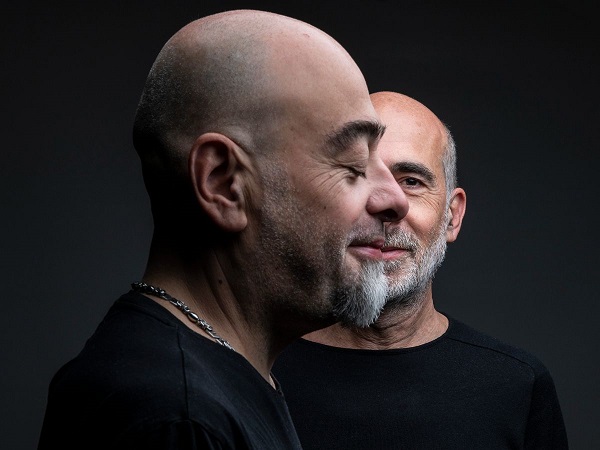 Belmondo brothers;
The opderschmelz cultural centre in Dudelange has confirmed that the last events of the "Jazz Nights" series of its summer season are taking place this weekend.
Friday 6 August 2021:
Belmondo Quintet - Brotherhood
"Brotherhood" is the fifth album by Belmondo Quintet, i.e. brothers Stéphane, great lyricist of his instrument and one of the most appreciated trumpeters this side of the Atlantic, and Lionel Belmondo, the saxophonist who is tireless when it comes to combining musical styles. The album marks the return of a band that, in the course of its turbulent history, has recorded some of the best of French jazz. After delighting audiences and professionals alike at major festivals in Europe this summer, the Belmondo Quintet will present their latest project on 6 August as part of "Ënnert dem Waassertuerm" open-air festival in Dudelange.
Lionel Belmondo - tenor sax, soprano sax, flutes
Stéphane Belmondo - trumpet, bugle
Eric Legnini - piano
Sylvain Romano - contrebasse
Laurent Robin - drums
ARA Sextet
The ARA Sextet, led by world-renowned pianist Bojan Z, will open the evening. It all started as a happy coincidence in 2019, with six musicians sharing the same ideas for a common project called "Criss Cross Europe". ARA Sextet has quickly grown into a dynamic and exciting band, comprising some of the most talented and creative young minds from Estonia, France and the Benelux.
Bojan Z (FR) - keyboards
Anneleen Boehme (B) - double bass
Kirke Karja (EST) - piano
Yuri Rhodenborgh (NL) - guitar
Pol Belardi (LUX) - vibraphone
Mathieu Penot (FR) - drums
Further information, including ticketing, is available at https://opderschmelz.lu/en/agenda/1687_1503.
Saturday 7 August 2021:
Reggie Washington - Music of the Phrase
New York bassist Reggie Washington has formed a new band called Music of the Phrase. With the help of DJ Grazzhoppa on the turntables, Fabrice Alleman on saxophone, Igor Gehenot on keyboards and Patrick Dorcéan on drums, Reggie fuses different styles of music. From jazz to classical via blues, funk and hip-hop, he presents his new compositions as well as arrangements of Beethoven, Monk, Bill Evans, Wayne Shorter and Lenny White.
Reggie Washington - acoustic and electric bass
Fabrice Alleman - tenor and soprano saxophones
Igor Gehenot - acoustic piano & keyboards
DJ Grazzhoppa - turntables
Ulrich Edorh - drums
TELE-PORT
TELE-PORT is a brand new project composed of great Luxembourgish jazz voices (namely bassist Pol Belardi, keyboardist Jérôme Klein and drummer Jeff Herr) who join forces with the adventurous Russian saxophonist Zhenya Strigalev, who has also been a mainstay of the London jazz scene for the past decade. The concept of the original music they play can be defined as a distillation of carefully chosen ingredients from the heart of Europe (with its romance, wisdom and patience), the United States (with its jazz history) and Eastern influences (with its own rich traditions).
Pol Belardi - bass
Jérôme Klein - keyboard
Jeff Herr - drums
Zhenya Strigalev - saxophone
Further information, including ticketing, is available at https://opderschmelz.lu/en/agenda/1688_1504.
On both evenings, doors open at 18:30 for a 19:30 start.
Pre-sale tickets cost €25; tickets cost €30 at the box office. Free entry with the Kulturpass.