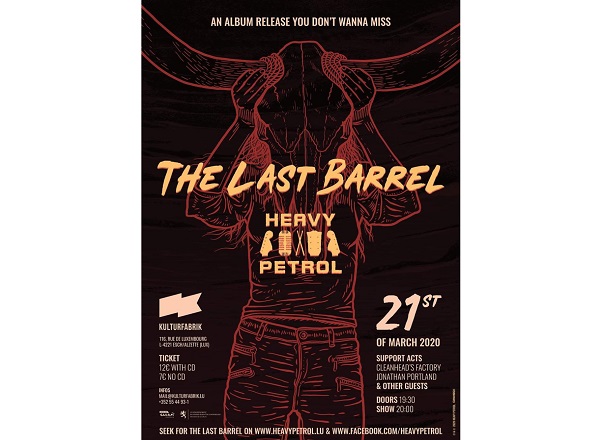 Album "The Last Barrel"; Credit: Heavy Petrol
Luxembourg blues band Heavy Petrol will present their new album "The Last Barrel" at the Kulturfabrik in Esch-sur-Alzette on Saturday 21 March 2020 at 20:00.
Cleanhead's Factory and Jonathan Portland will perform during the first part of this album launch, which also promises some special guests throughout the evening.
Founded in 2011 by the common desire of five friends to cover blues songs, the group ended up quickly composing their own material. The many concerts that followed allowed Heavy Petrol to gain recognition. The band released their first album "Petrol Train" in 2017.
Heavy Petrol is made up of Woody Lunari on vocals and harmonica, Gigi Felten and Steve Richer on guitar, Dan Kries on bass, Konni Troost on drums and Elise Nunes on vocals. Their sound is strongly influenced by artists such as Jimi Hendrix, Johnny Winter and Joe Bonamassa.
In addition to accompanying on stage renowned artists such as Brother Dege & the Brotherhood of Blues, Allman Betts Band, Ana Popovic and Junior Mack and performing on the stages of the festivals "Blues and Jazz Rallye" and "Blues Express", the band represented Luxembourg in the final of the most recent European Blues Challenge which took place in April 2019 in Ponta Delgada in the Azores.
This new album, composed of ten original songs and one cover, takes listeners into different subjects and universes, directly inspired by the band members. The predominant style of the album is of course blues, but there are also funk and desert rock aspects.
Doors open at 19:30 for an 20:00 start. Tickets cost €12 (including new album) or €7 (without the album).