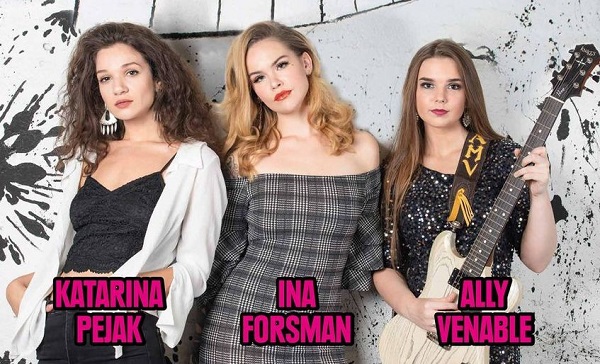 The Blues Club Lëtzebuerg (https://www.bluesclub.lu) has announced that a Blues concert will be held on Saturday 2 March 2019 at 20:300 at the Sang & Klang (1 rue de Trois Glands, Luxembourg-Pfaffenthal).
The Blues Caravan 2019, which last performed in Luxembourg on 5 February, will feature Ina Forsman, Ally Venable and Katarine Pejak.
The famous Blues Caravan - this year featuring the singer and songwriter Ina Forsman, guitarist Ally Venable and pianist Katarina Pejak. Three excellent Blues stars bringing their own styles to give you an excellent evening of Blues music!
Ina Forsman is no stranger to anyone who's serious about modern blues. The Finland-born belter lit up the Blues Caravan back in 2016, when we first heard her head-turning smoky vocal and the material from that year's acclaimed self-titled debut album (dubbed "joyous" by Classic Rock). This time, Ina returns to the Caravan with the speaker-rattling soul, blues, Latin and acid-jazz flavours of her upcoming second album, Been Meaning To Tell You. "I'll be bringing a bunch of as-yet-unheard songs," she said, "as well as some funky hidden treasures from back in the day. It's going to be a once-in-a-lifetime tour, full of raw female power."
And they don't come much more powerful than Ally Venable. Adding her modern twist to the proud heritage of Texas blues, this Lone Star State gunslinger has gathered armfuls of awards for her burn-it-down guitar style and the original songs of her recent Puppet Show release. Now, as she lights up the Blues Caravan 2019 – ably backed by the locomotive rhythm section of Roger Innis (bass) and Elijah Owings (drums) – you'll walk in curious and leave as a convert. "I'm excited to bring my show and my Texas-influenced guitar slingin' background to this Blues Caravan," said Ally. "When I play live, I want to connect with people and for them to let go of their troubles."
There must be something in the water in Belgrade. The Serbian capital has already given us Ruf legend Ana Popovic – and Katarina Pejak promises to make the same impact. With her soulful piano-playing, purred jazz vocal and sneak previews of the material set to appear on her forthcoming Mike Zito-produced album, this Berklee College Of Music graduate will have the crowd in her hand. "My shows provide a blend of blues, country, jazz and rock 'n' roll wrapped in a piano-driven sound," said Katarina. "Between me and the other two ladies, the audience will get a 360 tour around the crossroads where blues meets with other genres."
Tickets cost €25 - €29, and can be reserved on https://www.bluesclub.lu/en/event/blues-caravan-2019/