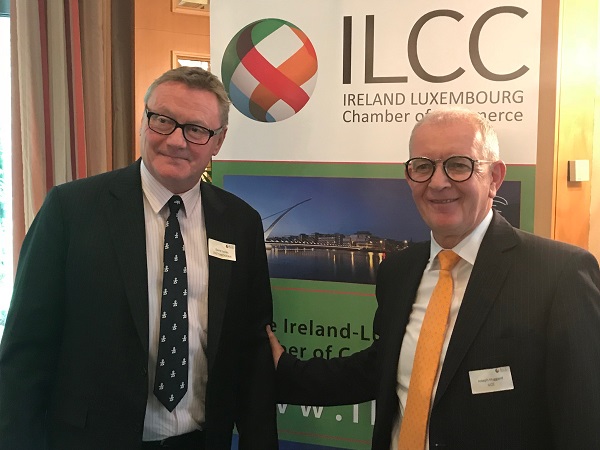 (L-R): David Jones; Joe Huggard, ILCC Chairman;
On Thursday evening, the Ireland-Luxembourg Chamber of Commerce (ILCC) held an evening seminar at the Hotel Parc Belair in Luxembourg city with Guest Speaker David Jones, a photojournalist who has worked alongside TV personalities such as Sir David Attenborough, Bear Grylls and Ben Fogle in alerting us to both the wonder of and the threats to our seas.
David will be presenting a pragmatic view of what needs to be done recognising that changing the habits of a lifetime is not easy whether one lives in Luxembourg - which is now operating a ship registry with over 200 vessels on the list - or in a poor coastal village in Indonesia.
Diving is second nature to David Jones and after many years he has gained a huge amount of experience and knowledge. As a photojournalist, he is in popular demand and his articles have been published in most of the UK's diving magazines and further afield. He has worked for a number of production companies including the BBC. His biggest filming project to date has been the 7-year production of the feature-length and multiple award-winning documentary "A Plastic Ocean" on which he had a multitude of roles including diving supervisor, cameraman, stills photographer and executive adviser.
Ireland, as an island nation, has long ties to the sea, both in our lives and in our culture; the current Brexit negotiations has placed fishing rights and over-fishing centre stage for Ireland and the UK; the impact of global warming is evident in the rising temperature of our seas. Currently the hot topic is plastics in our oceans, with TV channels, industry and various NGOs campaigning on this issue. The seas concern us all.
David addressed the issue of plastics in our oceans, how did we get to this point and what is the practical way forward, illustrated with visually stunning images and video, drawn from his work as a photographer and film-maker.
Joe Huggard, Chairman of the ILCC, introduced the event to the 50+ attendees and referred to the changes he has seen himself over the last number of years regarding plastic and the oceans.
David Jones illustrated his 40-minute talk on "Plastic, our Oceans, our Planet" with plenty of photographs and some videos too. He explained that after he left the military, he became an underwater photographer and cameraman. He worked on the BBC series "Life", after which he heard about an island of plastic in the Pacific Ocean.
From a historical perspective, the first plastics in the 1940s were of Bakelite, from telephones to billiard balls. In 1955, the concept of disposable items came about and became "completely bonkers" with events such as Tupperware Parties. He explained that plastic has revolutionised the way we live, mostly for the best. The Boeing Dreamlines is 60% plastic. Half of all plastic nowadays is made for throwing away, disposable. He said it is devastating on the environment, on the ecosystem, on biodiversity.
Many of the images projected on the screen were shocking initially in terms of the health of animals, then leading on to human's physical health: with toxins attracted to plastics, which are eaten by fish which then find their way up the food-chain to humans.
In many cases, many islands and countries that got their independence then started to import goods, many of which used plastic packing; their waste management strategies could not cope - 335 million tonnes of plastic is now produced annually across the globe, of which 50% is disposable. He also mentioned that when waste (plastic) has no value, nobody will address the issue.
However, he said that there is good news as we can resolve it. We have it in our power to resolve it. He talked about the 500 km floating barrier to be placed across the Pacific, but doubted it would be the solution. He talked up science, a systematic study to derive facts which in turn will drive policy. HE said that we need to educated people who do not care if they don't know; he added that we need to be smart on the education process. Another part of the solution is innovation - encouraging people to come up with novel ideas to address such ideas.
He talked about a 13-year fire in the UK, at a tyre dump in Wales; 1.5 million tonnes of rubber from tyres goes into the roadside drains each year. However, in The Netherlands, roads are built differently, where the asphalt collects rubber from vehicle tyres and is then collected for recycling twice-yearly.
He concluded by talking about engagement with people, highlighting his message about tackling micro-plastics by showing photographs and short video clips about volunteers taking samples from shorelines for analysis. He called for legislation on bans of plastic bags and encouraging Extended Producer Responsibility. Waste Management needs to improve, which can happen; however, changing culture is much more difficult. A quotation attributed to Barack Obama: "Change is never easy, but always possible".
The evening concluded with a networking cocktail.