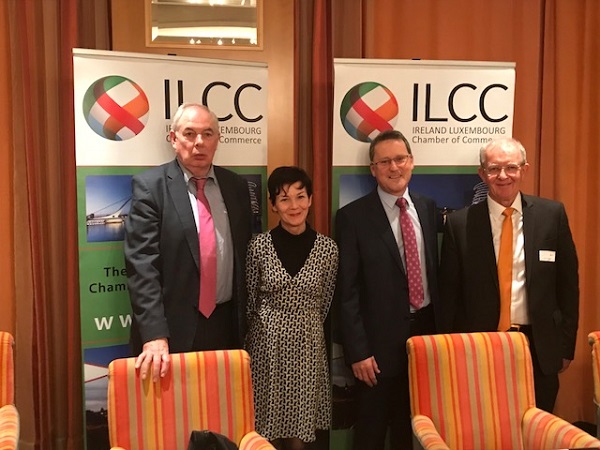 Photo (L-R): Tom Murphy, Kerry Group; Patrizia Luchetta; George Lee, RTE; Joe Huggard, ILCC Chairman;
On Tuesday 21 November, the Ireland Luxembourg Chamber of Commerce (ILCC) held its first Brexit event at the Hotel Parc Belair in Luxembourg-Belair, with around 50 people attending the event entitled "Small, Open Economies and Preparing for Brexit - What lessons can we take from Ireland's and Luxembourg's track records in dealing with adversity?".
Joe said that the evening would examine two open economies and how they could be affected by Brexit. He said that 6/10 people working in Luxembourg do not come from the Grand Duchy, and Ireland's changes are ongoing. "Just when we have got over a crisis we have Brexit". He explained that what he would like discussed are the lessons learn from the previous crisis, as it is affected by the border and financial services, etc. As London is the second-largest trading centre in the world, the effect of Brexit will be significant.
He introduced the panel, with George Lee an economist and journalist in Ireland who forecasted the crisis Ireland experienced. Patrizia Luchetta - before being an entrepreneur, she worked at the Ministry of the Economy in Luxembourg, and Tom Murphy, the CEO at Kerry Group in Luxembourg who has worked around the world.
George Lee gave the keynote address in which he said that adversity can make one stronger, but one must be able to adapt and willing to change. He said that the UK does not want to go forward, but backwards. The UK is Ireland's greatest trading partner, and Ireland is going to be caught in the slipstream of the Brexit shock.
As a small economy, Ireland been striving for stability. Times are changing so we can take nothing for granted. In response to the crash and the economic shock, Ireland learnt and coped well. He talked about Ireland's currency which showed over time that Ireland had its own economy. In the Exchange Rate Mechanism Ireland would be linking it currency to the German Deutschmark instead of UK's Sterling - there were many who felt that this was a bad idea. In 1986 and 1992 when the two currencies went in different directions, Ireland's economy "fell down the middle".
The issue of financial stability is crucial, he continued to stress, with Ireland's quest for financial stability continuing. He emphasised the issue of competitiveness which is multi-faceted. Now that Ireland does not have its own independent currency, when the crash came, Ireland's economy would have to change, with cuts to pay and government spending applied, with adjustments applied.
He then talked about Britain having its own independence, being able to choose how to get out of a difficult (economic) situation. In the crash, they did not make similar cuts; what happened was that their currency suffered significant devaluation.
He described Ireland's economic turnaround from the collapse as stunning; one has to play by the rules and move forward together. Ireland's current trade with the UK is around 17%, a significant drop from 50% before joining the EC.
He stated that Ireland's main benefit over the UK is "cows"; he claimed that agriculture is the cornerstone of Brexit and represents over 10% of Ireland's exports - what the farmers do keeps Ireland afloat outside Dublin. The UK represents 60% of Ireland's agrifood business. As a result of the Sterling depreciation after the Brexit vote, Ireland's exports sufferend by €570 million.
Once the UK is outside the Single Market, Ireland's economy will suffer. The UK wll import cheap food and 21% of Ireland's agrifood business will suffer, with prices affected too - this could cost €1 billion/year. Other things will happen as regulations change - from pesticides to The tariff on milk coming into Ireland after Brexit (much comes from Northern Ireland) can go up as much as 18 cents/litre; other commodities will also be affected significantly. 19% of gas and oil imports come through the UK. Tariffs on items such as butter could be around 50%, for example.
One major issue for the EU post-Brexit is how to deal with the missing British contributions to, for example, the Common Agriculture Policy, which could have a significant impact on Ireland's farmers and agrifood business.
He said that the issue appearing to be discussed is regarding the border with Northern Ireland, instead of focusing on the real issues at hand, i.e. the Single Market and the Customs Union. The blow to Ireland's GDP is expected to be 3.6% of GDP as a result of Brexit, with the effect to Luxembourg's economy expected to be 0.7%. He concluded by stating "I hope sincerely that the European politicians listen and act accordingly. We are seriously at risk over this."
Patrizia Luchetta presented some statistics regarding the Grand Duchy and Britain and stated that Luxembouurg exported €15 billion to Britain in 2015, with 26% of financial services
imported from Britain (7 of the 141 banks here are British). Statec predicts a drop of 11% (€350 million) of trade in financial services between Luxembourg and Britain between now and 2020. Looking at European research, for example, the UK's withdrawl from the EU will have a significant impact. Luxembourg's strength is being able to reinvent itself and she hopes it happens again.
Tom Murphy of the Kerry Group recalled that he remembers before Ireland entered the EU. He acknowledged that the Kerry Group has had a long relation with the UK. He also reeled off various statistics, including that household's expenditure equals 11% of income in the UK. He said that the UK has sleepwalked into Brexit, with Ireland, on the other hand, undertaking a series of risk analyses.
He said that we are still no clearer what scenario will be realised (upon Brexit), with various options still all possible. He explained that the agrifood industry is highly streamlines and operates 24 hours/day, 7 days/week. He talked about supply chains, with risk migration policies resulting in international supply chains starting to bypass the UK.
He also addressed the issue of regulation, with all 28 EU Member States adhering to the same rules at present; he said that he really hopes that the "cheap food" policy mentioned by George Lee does not happen as it could be a disaster for the food industry. Another issue to be addressed is quotas; it will be very interesting to see how other countries (the US, etc.) will see this as an opportunity to increase their exports into the EU and the UK as they agree new trade deals with Britain.
In the post-presentation round-table discussion, Patrizia Luchetta suggested this could be an ideal opportunity for Ireland and Luxembourg, two small economies, to work together for mutual benefit. George Lee said that Ireland's identity should be underlined and should be successful due to skills and ability to succeed.
Tom Murphy said that he has been working in Luxembourg for four years and applauded the way Luxembourg has gone about building its back-office financial services sector. This will be the second time that Ireland will have to pull itself out of a hole with a few years.
As a last word, George Lee suggested that Britain should put the deal to the people again in another referendum, stressing that the 23 June 2016 referendum was non-binding. However, he does not hold out much hope for a second referendum. Tom Murphy agreed that all of Europe will lose out as a result of Brexit, event though there will be some winners on specific issues.
The evening concluded with a networking reception.