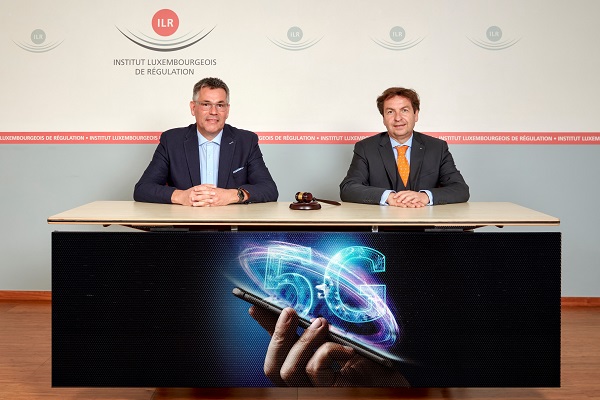 L-R: Claude Rischette, head of the frequency service of the ILR; Luc Tapella, director of the ILR; Credit: ILR / Eric Devillet
The Luxembourg Regulatory Institute (ILR) and the Department of Media, Telecommunications and Digital Policy have announced the results of an auction for the allocation of 5G frequencies in the Grand Duchy.
Following the auction organised by the ILR for the allocation of frequencies intended for 5G, all the frequencies available at this stage have been allocated to four operators. The auction results are as follows:
700 MHz
Orange Communications Luxembourg SA: 2x10 MHz
POST Luxembourg: 2x10 MHz
Proximus Luxembourg SA: 2x10 MHz
3600 MHz
Luxembourg Online SA: 10 MHz
Orange Communications Luxembourg SA: 110 MHz
POST Luxembourg: 110 MHz
Proximus Luxembourg SA: 100 MHz
Five candidates participated in the auction process, although Eltrona did not secure a frequency.
According to the Department of Media, Telecommunications and Digital Policy, the auction made it possible to guarantee an objective and transparent selection procedure while promoting efficient use of spectrum in the face of a demand exceeding the available spectrum.
The total amount of royalties to be collected for the rights to use 5G frequencies resulting from the auction procedure is €41,330,000 for a period of fifteen years. The ILR will collect this amount and pay it to the state after deduction of the administrative costs borne by the institute.
The licences will be allocated to the operators by Luxembourg's Prime Minister and Minister for Communications and Media, Xavier Bettel, in order to allow them to launch the deployment of their 5G networks. In accordance with the national 5G strategy, these licences provide for a deployment schedule as well as coverage obligations which aim to offer 5G services in the territory of the municipality of Luxembourg towards the end of 2020 and national 5G coverage no later than 2025.
Licences confer the right to use frequencies. Operators must also apply for the other required authorisations and comply with the applicable legal provisions.