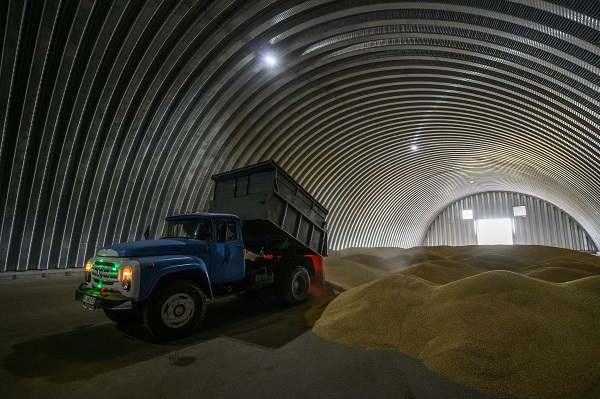 An employee unloads wheat grains inside a storage in the village of Zghurivka, amid Russia's attack on Ukraine, in Kyiv region, Ukraine on 9 August 2022.; Credit: REUTERS/Viacheslav Musiienko
KYIV (Reuters) - Ukraine can export 3 million tonnes of grain from its ports in September and may in the future be able to export 4 million tonnes from them monthly, Deputy Infrastructure Minister Yuriy Vaskov said on Tuesday 16 August 2022.
He said Ukraine had received applications for 30 ships to come to Ukraine in the next two weeks to export grain.
Ukraine's grain exports have slumped since Russia invaded on Feb. 24 and blockaded Ukrainian Black Sea ports, but three Black Sea ports were unblocked last month under a deal between Moscow and Kyiv that made it possible to send hundreds of thousands of tonnes of Ukrainian grain to buyers.
Five more grain ships leave Ukrainian ports
Five more ships have left Ukrainian ports carrying corn and wheat, three from Chornomorsk and two from Pivdennyi, under a U.N.-brokered grain export deal, Turkey's defence ministry said on Tuesday 16 August 2022.
It added that four more ships bound for Ukraine were to be inspected on Tuesday by the joint co-ordination centre, set up by Russia, Turkey, Ukraine and the United Nations in Istanbul.
One of the ships leaving on Tuesday was the Brave Commander, carrying the first cargo of humanitarian food aid bound for Africa from Ukraine since Russia's invasion, Refinitiv Eikon data showed.