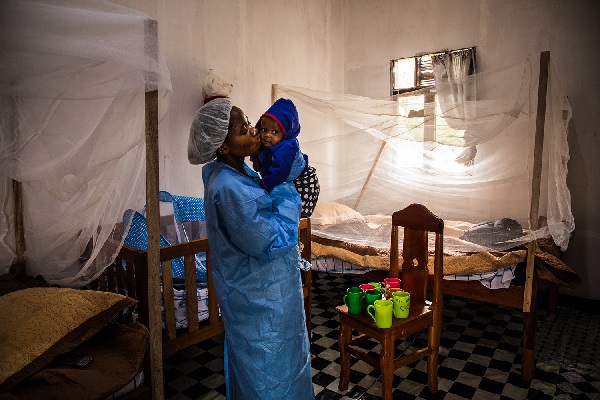 Credit: UNICEF
UNICEF, a non-profit organisation which has one of its National Committees in Luxembourg, has launched a call for donations to help combat the outbreak of Ebola in the Democratic Republic of Congo (DRC).
A year ago, the government of the DRC declared the emergence of the Ebola virus in the province of North Kivu and two weeks ago, the situation was declared a health emergency international scope. As of 31 July 2019, a total of 2,687 confirmed and probable cases have been reported, including 1,622 deaths, making it the second most serious Ebola outbreak in the world and the first in an area of ​​active conflict.
Indeed, this epidemic is affecting more children than in previous outbreaks. As of 31 July 2019, 758 children had been infected, representing 31% of the total number of cases, while in previous epidemics it was only 20%. Children under five are particularly affected, infecting their mothers and caregivers. A further 2,091 children have been separated from their parents and 1,229 children orphaned as a result of this outbreak.
In a joint United Nations statement, Tedros Adhanom Ghebreyesus, Director general of the World Health Organisation (WHO), Mark Lowcock, United Nations Under-Secretary-General for Humanitarian Affairs and Emergency Relief Coordinator and the Head of the United Nations Office for the Coordination of Humanitarian Affairs, Executive Director of UNICEF, Henrietta Fore, and Executive Director of the World Food Programme, David Beasley, said: "It's an emergency. There is a very real risk that the Ebola outbreak will spread to neighbouring countries and the international community should urgently join forces to make sure this does not happen. This means that investments need to be increased so that partners in the field have the resources they need to deal with each case and find each contact".
The assistance provided by UNICEF includes the vaccination of over 170,000 people, the treatment of 1,300 people in four treatment and transit centres and 77 million national and international traveller screenings. In addition, the money raised will help UNICEF continue to carry out 20,000 medical visits each day, test 3,000 samples in eight laboratories each week and provide over 10,000 handwashing sites in critical locations. Other assistance includes supporting more than 2,000 community workers active in affected areas as well as providing food assistance to over 440,000 people and daily meals to 25,000 schoolchildren in areas affected by the Ebola virus.
In this context, UNICEF has launched an appeal for further donations which can be made online at unicef.lu/ebola or via bank transfer to the account CCPL LU71 1111 2144 2050 0000 (mention: EBOLA).