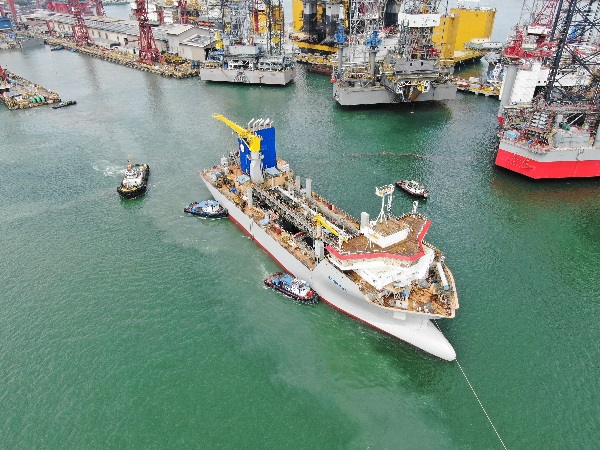 ULEv Sanderus; Credit: Jan De Nul Group
Jan De Nul Group has announced the launch of its Sanderus Squeegee Suction Dredge at the Keppel Offshore & Marine shipyard in Singapore.
The Jan De Nul Group, which employs more than 6,000 employees in over 70 countries worldwide, last week launched its fourth dredge focusing on better air quality by filtering exhaust gases as much as possible. This medium-sized "green" vessel is the first of two identical trailing suction dredges built by the Keppel Offshore & Marine shipyard in Singapore. Both dredges are equipped with an exhaust gas treatment system.
In total, Jan De Nul Group has ordered six vessels of this type, called "Ultra-Low Emission vessels": five trailing suction dredges and one offshore installation vessel, the Voltaire. The two 6,000m³ dredges and the Voltaire are under construction, while the three 3,500m³ dredges recently left the shipyard in China for their first mission.
The Sanderus dredge combines a shallow draft with great maneuverability, making the vessel very suitable for operating in confined areas. In addition, it is equipped with a diesel-electric engine: the dredging plant and the propulsion are powered electrically by means of frequency converters. Electricity is produced by three diesel gensets, which are automatically started or shut down according to the need for electricity. In addition, the asymmetrical distribution of the load on the various diesel engines reduces fuel consumption. All of these measures result in lower fuel oil consumption than other ships in this class.
A global leader in marine construction, Jan De Nul Group has designed its latest vessels with a diesel engine, but equipped with an advanced exhaust gas filtration system using a Selective Catalytic Reduction (SCR) system and a particulate filter (FAP). This exhaust gas filtration technique complies with the strictest emission regulations in Europe for land vehicles and for inland navigation, the EURO STAGE V standard.