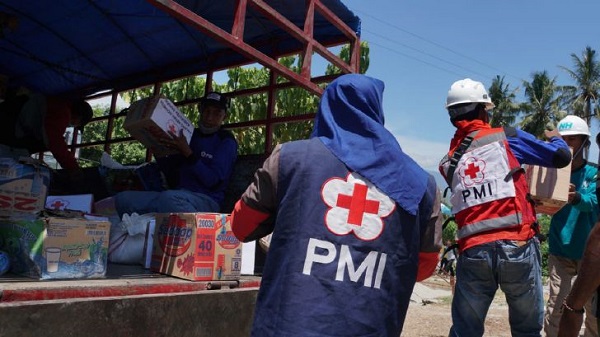 Red Cross Relief arrives in Indonesia; Credit: Iris van Deinse/IFRC
A week after the devastating earthquakes and tsunami hit the island of Sulawesi, relief efforts are increasing in communities destroyed; on-site Red Cross teams have reached previously-inaccessible areas such as Palu, Donggala and Sigi.
The operation of the Indonesian Red Cross focuses on the distribution of drinking water and food, medical assistance and the evacuation of survivors from the disaster area.
Iris van Deinse, Communications Officer of the International Federation of Red Cross and Red Crescent Societies (IFRC) in Palu, said: "More and more aid arrives every day (a plane arrives with generators and tarpaulins of the New Zealand government), and 70 tons of relief from the Red Cross are on their way to Palu. Many roads are still impassable and access remains a major challenge, but we bring goods by boat and volunteers deliver walking assistance to isolated communities. The shock and trauma are palpable, and the area is still affected by aftershocks a week after the disaster. Red Cross teams are doing their best to comfort survivors and evacuate them to safer areas of the island."
Relief access was hampered by the destruction of roads and bridges in the affected areas. To speed up relief operations, the Indonesian Red Cross has emptied five of its warehouses and loaded equipment and goods onto three ships.
From one area to another, needs vary little: care, tents, blankets, baby food, nappies, clean water, tarpaulins and food.

Medical teams have set up mobile clinics in Palu, Donggala and Sigi. Physicians treat mainly women and children with open wounds, fractures and bruises. They also report an increase in the number of cases of diarrhea, stomach problems and influenza, as survivors sleep on the street without access to safe drinking water.
Government agencies are currently reporting that at least 1,581 people have been killed and more than 2,500 have been wounded, not counting missing persons. About 160,000 people were affected by the earthquake and tsunami in Sulawesi, as well as the series of earthquakes that occurred in August on Lombok Island.