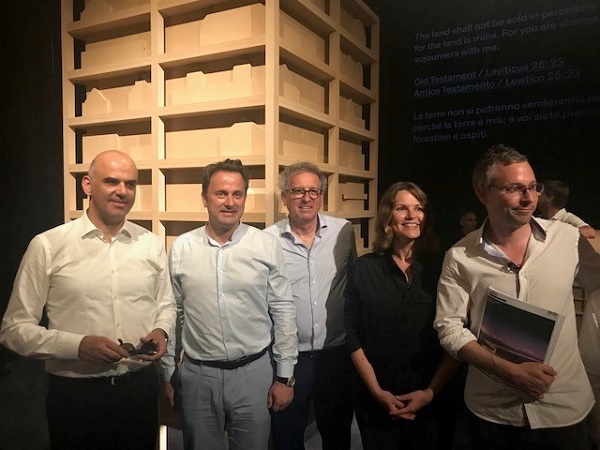 (L-R) at Venice Biennale: Alain Berset (Swiss Confederation President), Xavier Bettel, Pierre Gramegna, Andrea Rumpf, Florian Hertweck; Credit: MCULT
In his capacity as Minister of Culture, Luxembourg's Prime Minister Xavier Bettel traveled to Venice on Saturday 26 May 2018 to celebrate the new Pavilion of the Grand Duchy of Luxembourg at the Venice Biennale; the official reception was held in the presence of Luxembourg's Minister of Finance, Pierre Gramegna, the President of the Biennale di Venezia, Paolo Baratta, and many guests.
The pavilion of the Grand Duchy of Luxembourg is now located on the first floor of the Sale d'Armi, on the site of Arsenale. It is a former production site of the Serenissima which has meanwhile become one of the two main forums of the event. The Arsenale includes part of the official exhibition and the pavilions of several other countries.
The surface area of the new pavilion is 240 m2, almost double the Ca 'del Duca which had hosted the Luxembourg Pavilion for nearly two decades. The commitment of the Luxembourg State covers 20 years and allows Luxembourg to have a better visibility. In his speech, PM Bettel stressed the importance of this decision: "It was important for me to provide a new cultural showcase in the context of the Venice Biennales. These are important meetings, whether in the field of architecture or contemporary art. The current figures speak for themselves: During the last two architectural Biennials we welcomed some 6,000 visitors to Ca 'del Duca throughout the Biennale. This year, the Luxembourg Pavilion has already counted 3,200 visitors just during the 2 pre-opening days. I look forward to this first success and I am confident that the new communities will attract many more visitors in the months to come."
PM Bettel congratulated curators Andrea Rumpf (LUCA) and Florian Hertweck (uni.lu) as well as the entire Luxembourg Centre for Architecture team for organising the first exhibition in the new premises. It has been titled "The Architecture of the Common Ground" with a theme of the importance of land ownership in architecture and urban planning. The Architecture Biennial was opened to the public on 26 May and lasts until 25 November 2018.
In the coming years, three major Luxembourgish cultural institutions will continue to take turns taking part in the Grand Duchy's participation in the Venice Biennales. The Casino Luxembourg - Forum of Contemporary Art and Mudam (Museum of Modern Art Grand-Duc Jean) will be in charge of exhibitions of the Art Biennale, while LUCA will organise as usual the Luxembourg contribution to the Biennale of architecture.