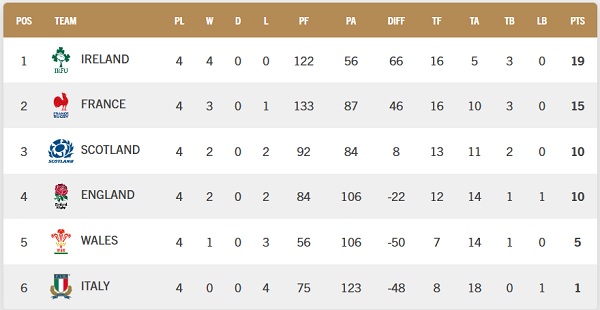 This weekend saw the fourth round of games in this year's 6Nations rugby tournament, with four teams still with a realistic chance of winning the tournament; after the three games, however, both England and Scotland fell behind leaving just Ireland and France in the hunt for top honours in the last round of games next Saturday, 18 March.
Italy - Wales
5th placed Italy took on 6th placed Wales in the weekend's first game on Saturday afternoon's early kick-off in a sunny Spring day in Rome. Australia's Damon Murphy was the referee for this potentially wooden spoon decider.
Wales started the stronger and got the first points on the scoreboard with a penalty on six minutes and the game's first try just three minutes later when the ball bounced kindly for Dyer to touch down for the game's first try. 0-10 for the visitors after ten minutes. Wales seemed to be playing with the passion which had been missing from their first three performances, and were kicking behind the Italian defence. Italy's lineout was mis-firing - they lost their first two - but they managed to get on the scoreboard with a penalty on 16 minutes. But Italy's tackling let them down when Liam Williams went over for Wales' second try of the game soon after. Conversion missed, 3-15. Italy started to improve but drew penalties from the referee. On 25 minutes the crowd was on their feet as home side had another strong break (by Garbisi) but were denied a try as Ignacio lost contact with the ball during the grounding. Wales were then awarded a penalty try after Italy pulled down a maul; Italy also lost #8 Cannone to a yellow card. The home side pressed for a try as the clock ran down but could not get over the line. HT Italy 3, Wales 22.
In the second half, Italy raced out of the blocks and crashed through the Welsh defence for Negri to touch down for their first try and reduce the difference to 12 points. Italy were back to 15 men but were quickly back down to 14 as Bruno was yellow-carded for leading with his forearm. On 50 minutes, Falateau raced onto a pass from Webb to score Wales' fourth try to get the bonus point. With 20 minutes left on the clock, Wales were 19 points ahead. Italy, back to 15 men, narrowed the gap with twelve minutes left on the clock when Ignacio touched down for the home side's second try. Handling errors started to creep in as both teams started to tire. Italy's running game started to click but they could not force their way over the Welsh line again.
FT Italy 17, Wales 29: Italy rued the loss of exciting fullback Capuzzo and, without him, they lacked any attacking spark. Wales, up against an Italy of old, more than doubled their try count for the tournament, must be delighted with their five points for their win. But they still have a huge amount of work to do with the Rugby World Cup on the horizon in the autumn.
England - France
"Le Crunch", as it has been labelled, saw last year's tournament champions take on Steve Borthwick's charges at Twickenham; all the pressure going into the game was on France as they would be hosting the Rugby World Cup and they had already lost to Ireland in the second round of games in this tournament; England were still rebuilding and France had not won away to England since 2005. But the visitors were not ranked #2 in the world for nothing.
Ben O'Keeffe from New Zealand was the "man in the middle" as France attacked and scored on their first break, with Ramos touching down within two minutes for the visitors. He converted his own try and also slotted home a penalty five minutes later, edging France into a ten-point lead. England seemed to make heavy weather of attacking the French defence. But it was France who scored next, with Flament scoring near the posts on 25 minutes. The visitors led by 17 points. England managed to reduce the deficit by three when Marcus Smith converted a penalty on 33 minutes. But France had the last say in the first half when Ollivon scored France's third try. HT England 3, France 27. The hosts were being blown apart by the French: could they change anything to be able to claw back the deficit after half-time?
In the second half, England started strongly and Malins almost scored on 45 minutes but he failed to catch cleanly a cross-field kick. However, with Mitchell and Farrell coming onto the field on 47 minutes (at #9 and #13) the added a spark with Steward almost immediately touching down a couple of minutes later, with Smith converting for seven points. England started to have more belief but France were not sitting back. On 57 minutes they scored their fourth try when Flament got his second try of the game when the bounce of a through-ball beat the English defenders. Another break and chip over the top put Smith under severe pressure on his own line with France's Ollivon getting the touch for his second, and France's fifth, try. Ramos converted to take his personal points tally to 21 in the match. France were now 31 points ahead with 19 minutes to play. To make matters worse for the home team, England had used their three replacement backs when centre Lawrence went off injured, with Walker, a hooker, coming on in his place. France's out-half, Dupont, then split open the English defence with two kicks in the same move; no try this time, but France scored their sixth try when Penaud's speed saw him race down the right wing and touch down. Two minutes later Penaud got his second… France were 43 points ahead and there were still five minutes on the clock. England tried one last attack but knocked on from a penalty…
FT England 10, France 53. France came away with their reputation restored and back in the mix for the title, as well as their title as favourites for this year's Rugby World Cup. England suffered their third heaviest defeat ever, and their heaviest at home. Steve Borthwick and his team have a lot of work to do, not only before their last game of the tournament next weekend, but in the run up to the Rugby World Cup.
Scotland - Ireland
In Sunday's game, leaders and top ranked team Ireland travelled to Edinburgh to take on the table's second-placed team, Scotland, who were playing for a Triple Crown, with the visitors the only team left who could claim a Grand Slam. So, everything to play for, with the losers fearing France overtaking them in the table and pushing them down to third.
After the first few minutes where both teams were testing the other, Ireland stole a Scotland lineout and touched down, only for the referee to rule that the lineout had to be retaken as Scotland had changed the ball. Ireland returned to Scotland's 22 and threatened the try line only for Scotland's defence to hold solid. Ireland settled for a penalty to lead 0-3. On 12 minutes, Ireland's Jack Conan came on to replace the injured Caelan Doris; by then, Cummings had replaced Jonny Grey for the home team in what had already become a game of attrition. Scotland then enjoyed a period of sustained pressure involving 17 phases of play. On 17 minutes, Scotland opened their account when Huw Jones went over for their first try, converted by Finn Russell. There was little between the teams. Ireland were forced into two further changes before 25 minutes were up, with Baird and Kelleher coming on for Henderson and Sheehan. Just a couple of minutes later, Mack Hansen grounded in the corner for Ireland's first try of the game. From the touchline, Sexton missed the conversion. 7-8. Ireland pressured Scotland but the home team finished the first half in Ireland's half. HT Scotland 7, Ireland 8. A one-point game!
In the second half, Ireland started sharply but lost their second hooker, Kelleher, to injury after 48 minutes, with Cian Healy (a prop) coming on in his place, meaning van der Flier was throwing in on lineouts. With half an hour to play, the momentum was starting to go Scotland's way. However, from a scrum penalty Ireland surged forward and James Lowe touched town in the left corner for Ireland's second try, and the first score of the second half. With Sexton converting, Ireland stretched their lead to eight points. On 60 minutes, with Jamison Gibson-Park on for Conor Murray at scrum-half, Ireland upped the tempo and surged up the pitch with Lowe firstly scorching up the left wing, only for Ireland to switch track with Conan touching down on the right for Ireland's third try. Sexton got this conversion for Ireland to stretch their lead. With seven minutes left on the clock, play was stopped as Garry Ringrose received extensive treatment after a bad collision, on the field before going off injured on a stretcher. After the game restarted, Ireland had an exhilarating break up the left wing involving Lowe, Gibson-Park and Baird, only for it to break down short of Scotland's line.
FT Scotland 7, Ireland 22. Ireland's defence was solid throughout the second half and restricted the home team to a single score; Scotland tried to the end but it was not to be. Ireland survived and, while they did not get a bonus point for a fourth try, their Grand Slam dream lives on.
Analysis
Next weekend, the last round of games will see Scotland favourite at home to Italy, France favourites at home to Wales, then Ireland favourite at home to England. But when in the 6Nations do all the favourites convert their tags and actually all win games? France, on 15 points, still have a chance of the title; to do so, they must get a good win over the Welsh, with a bonus point, and hope that England do a number over Ireland in Dublin. Even a losing bonus point for Ireland nay be enough (for the championship, but they will surely go for the win over the "auld enemy", looking for the Grand Slam and also ahead to the Rugby World Cup in September/October.