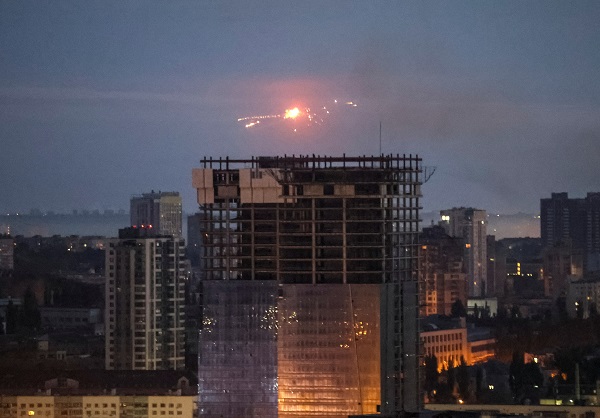 An explosion of a missile is seen in the sky over the city during a Russian missile strike, amid Russia's attack on Ukraine, in Kyiv, Ukraine, 21 September 2023; Credit: Reuters/Gleb Garanich
KYIV (Reuters) - Russia launched a massive air attack on the capital Kyiv and other Ukrainian cities on Thursday 21 September 2023, injuring at least eighteen people and damaging infrastructure facilities across the country, officials said.
Blasts were heard in Kyiv and the surrounding region after an air raid alert, Reuters witnesses said. Authorities reported sending rescue teams to several locations in the capital.
Interior Minister Ihor Klymenko said people were injured in Kyiv and Cherkasy regions and in the city of Kharkiv in the east during the attack that came early in the morning.
"It is a restless morning. Explosions were heard in different regions of Ukraine," he wrote on the Telegram messaging app.
Kyiv mayor Vitali Klitschko said seven people, including a nine-year-old girl, were injured in Kyiv. Missile debris fell in the city centre and an infrastructure facility and several non-residential buildings were damaged, causing a fire, he said.
Klymenko said a hotel and several shopping kiosks were damaged in Cherkasy in central Ukraine and seven people were injured.
The emergency services posted a video on Telegram showing rescuers carrying out an injured man on a stretcher as a fire rages.
The interior ministry and regional officials reported blasts in Cherkasy, Kharkiv, Khmelnytskiy, Rivne, Vinnytsia, Lviv and Ivano-Frankivsk regions.
Maksym Kozytskyi, Lviv's regional governor, said three Russian missiles hit the city of Drohobych in the west, about 60 kilometres from the Polish border. Kozytskiy said an infrastructure facility and warehouses were hit.
In a separate overnight attack, two people were killed by Russian shelling of a dormitory in the southern city of Kherson, governor Oleksandr Prokudin said.