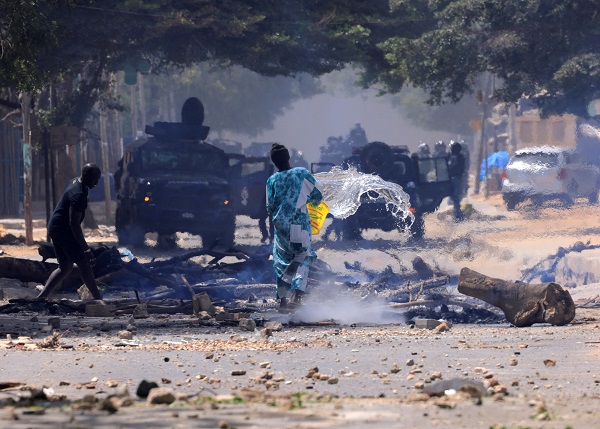 People put out burning barricades that were set on fire by supporters of Senegal opposition leader Ousmane Sonko, after Sonko was sentenced to prison in Dakar, Senegal, 1 June 2023; Credit: Reuters/Zohra Bensemra
DAKAR (Reuters) - One more person was killed in Senegal on Friday 2 June 2023, as police and protesters clashed for a second day since the sentencing of opposition politician Ousmane Sonko sparked some of the deadliest violence in recent memory.
Nine people died in clashes between police and Sonko supporters on Thursday 1 June 2023 after he was sentenced to two years in prison on charges of corrupting youth. The opposition says the verdict, which could prevent Sonko from running in elections next year, was politically motivated.
Rowdy crowds of protesters in face covers, some wielding spades, set tires and debris on fire, squaring up to police in various districts of the capital, Dakar.
Mobs have attacked supermarkets, shops, banks, police stations and public transport networks.
Similar scenes were reported in other parts of the country on Friday. Interior ministry spokesperson Maham Ka said another person was killed in the southern town of Cap Skirring, where protesters targeted a gendarmerie, bringing the death toll up to ten.
Riot police and soldiers deployed to reinforce security cracked down on the demonstrations with tear gas, which wafted through Dakar on Friday evening as loud bangs rang out in several neighbourhoods.
Ka told the state broadcaster the situation was now mainly under control and that the few remaining "incursions" were being handled.
"If demonstrations had remained peaceful [...] there would be no issue," he said, describing the protests as "gratuitous violence" and congratulating security forces for their interventions.
Several social media and messaging platforms have been restricted to limit online communications.
Thursday and Friday's riots were the latest bout in months of violence in Senegal, long considered one of West Africa's strongest democracies, sparked by Sonko's court case as well as concerns that President Macky Sall will try to bypass a two-term limit and run again in February 2024 elections.
Sall has neither confirmed nor denied this.
The United Nations, the African Union and West Africa's main regional bloc have condemned the violence. France urged restraint and dialogue to resolve the crisis.
Amnesty International has meanwhile called on the government to investigate Thursday's deaths and avoid using force disproportionately.
Earlier on Friday, large groups of students were bussed out of Dakar's main university campus, which was the epicentre of Thursday's violence. Classes have been suspended indefinitely.
Sonko, 48, was accused of raping a woman who worked in a massage parlour in 2021, when she was 20, and making death threats against her.
A criminal court cleared Sonko of rape, but found him guilty of an offence described in the penal code as immoral behaviour towards individuals younger than 21. He denies wrongdoing.
Many, especially the young, strongly support him.
"Young people are motivated, they will not let this go," said Cheikh Hann, a tailor. "The government cannot eliminate opponents."