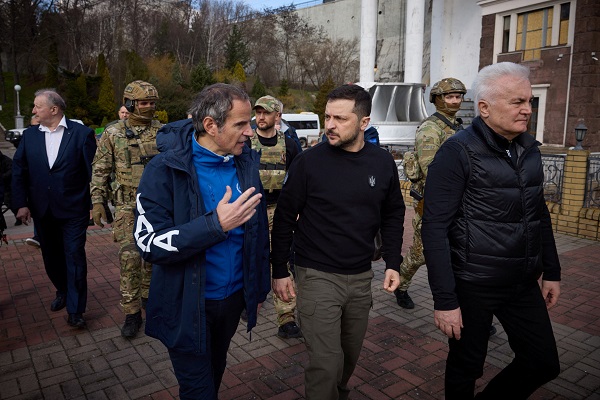 IAEA Director General Rafael Grossi speaks to Ukraine's President Volodymyr Zelensky as they visit Dnipro Hydroelectric Power Plant, in Zaporizhzhia, Ukraine, 27 March 2023; Credit: Ukrainian Presidential Press Service/Handout via Reuters
KYIV (Reuters) - Ukraine's president said Russian troops were holding the Zaporizhzhia nuclear plant "hostage" and its safety could not be guaranteed until they left it, while his forces shut the frontline town of Avdiivka as they planned their next move.
Russian troops have occupied the nuclear power plant, Europe's largest, since the early weeks of the invasion of Ukraine and have shown no inclination to relinquish control.
"Holding a nuclear power station hostage for more than a year - this is surely the worst thing that has ever happened in the history of European or world-wide nuclear power," President Volodymyr Zelensky said in his nightly video address.
He decried the Russian presence as "radiation blackmail".
His comments followed a meeting with Rafael Grossi, the director general of the International Atomic Energy Agency (IAEA), at the Dnipro hydroelectric power station, northeast of the Zaporizhzhia plant.
Initiatives on restoring safety and security are "doomed to failure" without a withdrawal of Russian troops from the plant, Zelensky said in comments posted on the presidential website.
Russia and Ukraine routinely accuse each other of shelling the Zaporizhzhia plant. Fighting around it and worries of a water shortage and that cooling systems could lose power have raised fears of a nuclear disaster.
A team of IAEA has since September 2022 been stationed at the plant, which Kyiv has accused Moscow of using as a shield for troops and military hardware.
Grossi has repeatedly called for a safety zone around it and is due to visit it again this week. He has tried to negotiate with both sides but said in January 2023 that brokering a deal was getting harder.
Zaporizhzhia is one of four regions Russia claimed to annex in September after referendums criticised globally as shams. Russia views the plant as its territory, which Ukraine denies.
Zelensky visited the southeastern Zaporizhzhia region on Monday 27 March 2023, the latest stage of a tour of frontline regions since a top general said Ukraine's counterattack could come soon.
Leopards reach Ukraine
Analysts expect a Ukrainian counterattack to get underway in earnest over April-May 2023 as the weather improves and more military aid arrives, including battle tanks Leopard and Challenger.
The eighteen Leopard 2 tanks, workhorse of militaries across Europe, pledged by Germany have reached Ukraine, the German Defence Ministry said on Monday.
"I'm sure that they can make a decisive contribution on the front," German Defence Minister Boris Pistorius said on Twitter.
Front lines in Ukraine have barely moved for more than four months despite a Russian winter offensive. Ukraine's military aims to wear down Russian forces before mounting its own attack.
Russia's Wagner mercenary force, which is thought to have sustained heavy losses in eastern Ukraine, is seeking to replenish its ranks ahead of any Ukrainian counteroffensive.
A giant recruitment advertisement for the group has appeared on the facade of an office building in northeast Moscow.
It shows Wagner's logo and slogans such as "Join the winning team!" and "Together we will win", along with a picture of a masked man holding a weapon.
Avdiivka shuts
On the battlefield, Russian forces appear to be focusing on Avdiivka, 90 km south of the battered mining town of Bakhmut, while a Ukrainian general said the country's forces were planning their next move.
Ukraine shut Avdiivka to civilians on Monday, with an official describing the town as a "post-apocalyptic" wasteland.
The Ukrainian military has warned that Avdiivka could become a "second Bakhmut", which has been reduced to rubble in months of fighting described by both sides as a "meat grinder". Russian forces say they are fighting street by street.
Ukrainian ground forces commander Colonel General Oleksandr Syrskyi, who said this month that a counterattack was not "far off", visited frontline troops in the east and said his forces were still repelling attacks on Bakhmut.
Meanwhile, Ukrainian authorities said air defences shot down twelve drones near Kyiv on Monday and falling debris set a non-residential site ablaze. No casualties were reported.
Russia launched a total of fifteen Iranian-made Shahed drones overnight on Ukraine, with Ukrainian forces destroying fourteen of them, Ukraine's military said early on Tuesday.
"The logic of the Russians' actions is terror aimed at civilian infrastructure," Ukrainian presidential chief of staff Andriy Yermak said on Telegram about the drone attacks. "It won't work, just like geopolitical blackmail."
Reuters could not verify battlefield reports.
Since Putin's invasion to "demilitarise" Ukraine got bogged down in the autumn, he and other Russian officials have played up the prospect the war could escalate to involve nuclear weapons. On Saturday 25 March 2023, he said he had struck a deal to station tactical nuclear weapons in Belarus.
Ukraine and its Western allies have denounced the plan.