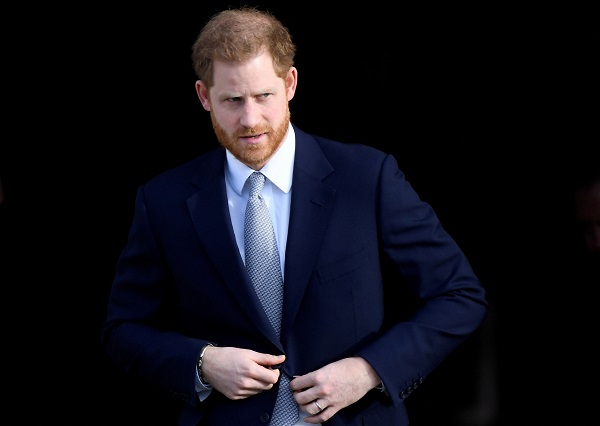 File photo: Prince Harry attends a rugby event at Buckingham Palace gardens in London, UK, 16 January 2020; Credit: Reuters/Toby Melville/File Photo
LONDON (Reuters) - The first hearing in a lawsuit brought by Prince Harry, singer Elton John and other high profile figures against the publisher of the Daily Mail newspaper over alleged phone-tapping and other breaches of privacy, is due to begin on Monday 27 March 2023.
The seven claimants, which include actresses Elizabeth Hurley and Sadie Frost, and Elton John's husband and filmmaker David Furnish, launched the action last year, but legal restrictions requested by the newspaper group mean specific details of their allegations have not so far been made public.
According to a statement released in October 2022 by lawyers for Frost and Harry, the younger son of King Charles, the case against Associated Newspapers includes bugging people's calls, cars and homes and paying police for sensitive information.
Associated Newspapers, publisher of the Daily Mail, The Mail on Sunday and the Mail Online, has said it "utterly and unambiguously" denies the allegations. It is seeking over four days of hearings this week at London's High Court to have the case thrown out.
Harry is already suing the Mail on Sunday for libel over an article about his security arrangements and last year won damages from the same paper after another defammation claim.
His wife Meghan also won a privacy case against the publisher in 2021 for printing a letter she had written to her estranged father. Meanwhile, Harry is expected to appear in court in May 2023 to give evidence in a libel trial against the Daily Mirror newspaper over accusations of phone-hacking.
Media intrusion was one of the reasons Harry and Meghan, the Duke and Duchess of Sussex, cited for stepping back from royal duties and moving to California to forge new lives and careers. They fiercely attacked the press in their recent six-part Netflix documentary series and in Harry's memoir Spare.
However, possibly the most notable claimant in the case is Doreen Lawrence, the mother of Black teenager Stephen Lawrence, who was murdered in a 1993 racist attack. She was later made a baroness for her campaigning work.
The Mail had championed bringing her son's killers to justice and said the allegations involving her were "appalling and utterly groundless smears".
In a statement last October, a spokesman for Associated Newspapers said the publisher had "the greatest respect and admiration" for Lawrence and was saddened she had been persuaded to join the action by "whoever is cynically and unscrupulously orchestrating these claims".