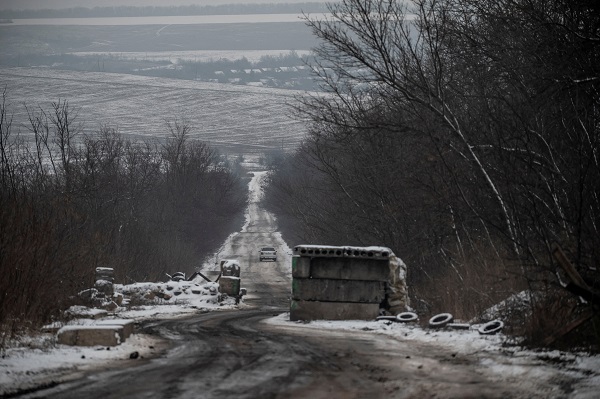 A car rides on an empty road near a frontline, amid Russia's attack on Ukraine, in Donetsk region, Ukraine, 29 January 2023; Credit: Reuters/Viacheslav Ratynskyi
KYIV (Reuters) - Russian forces are making incremental gains in their push to take territory in Ukraine's eastern province of Donetsk, focusing on the town of Bakhmut north of the regional capital.
Having finally persuaded NATO countries to supply modern battle tanks, President Volodymyr Zelensky's government is now lobbying hard for some of Ukraine's neighbours and Western allies to supply fighter jets.
In Paris, after meeting Ukrainian Defence Minister Oleksii Reznikov, French Defence Minister Sebastien Lecornu said "there was no taboo" about supplying Kyiv with fighter planes.
The United States (US) and the United Kingdom (UK) have thus far rejected the idea but repeated their willingness to continue military support to Ukraine, which Russian forces invaded in February 2022 in what Moscow called a "special military operation" to protect Russian security and Russian speakers. The invasion has killed thousands of civilians, uprooted millions and reduced cities to rubble.
More recently, Russia has characterised the conflict as confronting what it says is an aggressive and expansionist US-led NATO military alliance.
The West has so far refused to send weapons that could be used to attack deep inside Russia for fear of starting a wider conflict although Moscow has denounced recent Western pledges of weapons as provocations.
The US, which has provided Ukraine about $27.2 billion in military aid since Russia's invasion, is preparing a $2.2 billion package of additional assistance. That is expected to offer Kyiv longer-range rockets for the first time and other munitions and weapons, two US officials briefed on the matter told Reuters on Tuesday 31 January 2023.
Russia targets Bakhmut area
Ukrainian defenders in Bakhmut came under renewed fire as did Klishchiivka and Kurdyumivka, villages on the southern approaches to the town, the General Staff of the Ukrainian Armed Forces said in a statement on Tuesday night.
Bakhmut has suffered a relentless bombardment for months, as Russian forces resorted to the same destructive tactics they used to capture two cities further north - Sievierodonetsk and Lysychansk - in June and July.
Russian forces on Tuesday made no headway in attempts to advance on Avdiivka, the second focal point of Russian attacks in Donetsk region, Kyiv's military general staff said.
Russian forces also tried to advance near Lyman, a town further north in Donetsk region that was recaptured by Ukrainian forces in October, the military said.
Ukrainian military analyst Oleh Zhdanov said on YouTube that Russian forces in the area were regrouping and bringing in conscripts in what he called a "conveyor of death."
"We inflict as much damage as possible and they are forced to bring in new forces in order to keep up the constant attacks on our troops," he said. "Conscripts cannot keep up the pace of previous assaults ... Their physical abilities are not up to the task and their motivation is a lot weaker."
Russia was reaching further west in Donetsk by firing on the town of Vuhledar and a half dozen other towns and villages, the Ukraine military said. Vuhledar is about 148 km southeast of the main fighting in and around Bakhmut.
The UK's Ministry of Defence said the Russian force in the new Vuhledar assault was at least the size of a brigade, a unit typically comprising several thousand troops.
In neighbouring Luhansk region, a planned Ukrainian advance had slowed and an attack to liberate the town of Svatovo had been delayed due to bad weather, the military commander in the sector, Yuri Federenko, told Espreso TV.
Wagner mercenaries and "special forces dressed in Ukrainian uniforms" who could speak Ukrainian were active in the area, he said.
Reuters was not immediately able to verify the situation there or other battlefield reports.
Diplomatic tensions
In Washington, the US said Russia was violating the New START nuclear arms control treaty between the two countries. US President Joe Biden's administration has been eager to preserve the treaty but ties with Moscow are the worst in decades due to Russia's invasion of Ukraine.
"Russia's refusal to facilitate inspection activities prevents the United States from exercising important rights under the treaty and threatens the viability of US-Russian nuclear arms control," a State Department spokesperson said.
Also in Washington, former British Prime Minister Boris Johnson, a staunch supporter of providing military aid to Ukraine, met with Republican lawmakers. The Republicans took over the House of Representatives from the Democrats at the start of this year and some hardline members among them have called for an end to US military and other assistance to Ukraine, which amounts to tens of billions of dollars.
"My mission is to demonstrate that Ukraine will win - and that there is no conceivable case for delay in further supporting the Ukrainians to win this year," Boris Johnson said in a statement.
US Secretary of State Antony Blinken will discuss Russia's war in Ukraine with Chinese officials during a trip to China from 5 to 6 February 2023, the White House said on Tuesday.
A week after seeming to open the door for Russia and Belarus to compete at the 2024 Olympics, the International Olympic Committee (IOC) said it is standing by sanctions imposed against the countries over Russia's invasion of Ukraine.