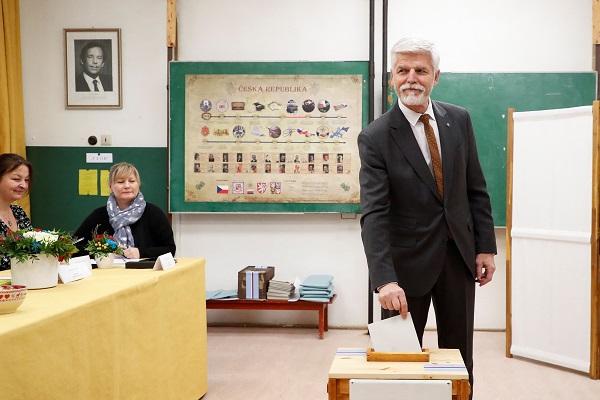 Czech Presidential candidate Petr Pavel casts his vote during the country's presidential election run-off, at a polling station in the village of Cernoucek, Czech Republic, 27 January 2023; Credit: Reuters/David W Cerny
PRAGUE (Reuters) - Former Czech army chief Petr Pavel, a pro-Western candidate who backs aid for Ukraine, aimed to turn a poll lead into an election win over billionaire ex-premier Andrej Babis on Saturday 28 January 2023 as Czechs wrapped up voting for a new president.
Voting in the run-off started on Friday 27 January 2023 and is due to end on Saturday at 14:00. Results are expected within hours of the polls closing.
Petr Pavel, a 61-year-old retired general with a white beard, campaigned as an independent and has the backing of the centre-right government that ousted Andrej Babis from power in a 2021 parliamentary election.
Andrej Babis, 68, a combative business magnate who had been prime minister since 2017, has sought to attract voters struggling with soaring prices and has vowed to push the government to do more to help them.
Betting agencies say Petr Pavel is ten times more likely to win than Andrej Babis, and he led final opinion polls by double-digit margins.
Petr Pavel said on Friday after casting his ballot that his motto was decency and cooperation. "[I would be] a president who will hold office with dignity," he said, and someone who "will not paint castles in the sky, but will describe reality as it is."
Czech presidents do not have many day-to-day duties but they pick prime ministers and central bank heads, have a say in foreign policy, are powerful opinion makers and can push the government on policies.
Petr Pavel has backed keeping the central European country of 10.5 million firmly in the European Union (EU) and NATO military alliance, and supports the government's continued aid to Ukraine since Russia invaded it last year. "I believe it will be important to continue to explain to people why it is important to support Ukraine," he said on Friday.
He favours adopting the euro, a long-dormant topic under numerous governments, and progressive policies such as gay marriage.
A career soldier, Petr Pavel joined the army in Communist times, was decorated with a French military cross for valour during peacekeeping in former Yugoslavia in the 1990s, and later rose to lead the Czech general staff and become chairman of NATO's military committee for three years before retiring in 2018.
War fears
Andrej Babis heads the biggest opposition party in parliament and has attacked Petr Pavel for being the government's candidate since the two emerged from the first round of the election with around 35% of the vote each.
He has labelled the election as a referendum on himself, saying people should support him if they felt "worse off" now than under his former government. "I would be their voice," he said on Friday.
He campaigned on fears of the war in Ukraine spreading, and sought to offer to broker peace talks. He also suggested that as a former soldier, Petr Pavel could drag the Czechs into a war, a claim Mr Pavel has rejected as warmongering.
Andrej Babis also has the support of outgoing President Milos Zeman, a divisive figure over his ten years in office who pushed for closer ties with Beijing and - until Russia invaded Ukraine - Moscow, as well as fringe forces including the pro-Russian Communist Party.