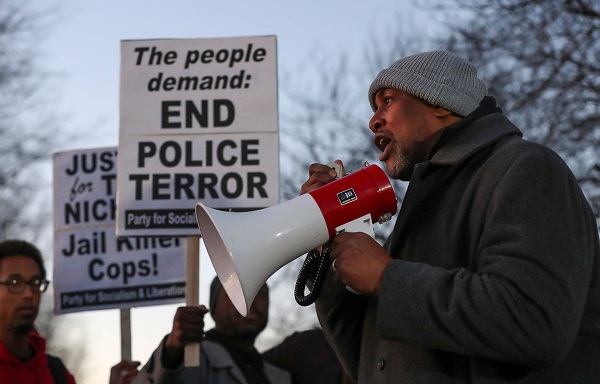 A man speaks through a bull horn during a protest on the day of the release of a video showing police officers beating Tyre Nichols, in Memphis, Tennessee, US, 27 January 2023; Credit: Reuters/Alyssa Pointer
(Reuters) - On Friday 27 January 2023, the city of Memphis released a video of the police traffic stop and beating of Tyre Nichols, a 29-year-old Black man. Five police officers have been fired and charged with second-degree murder in his death.
Here is a timeline of events.
7 January: Officers pull over Tyre Nichols on suspicion of reckless driving around 20:30. Police said in a statement that a confrontation ensued, Mr Nichols fled on foot, was pursued by officers and another confrontation occurred. Afterward, Mr Nichols "complained of having a shortness of breath," the statement said. An ambulance was called and Mr Nichols taken to hospital.
8 January: Shelby County District Attorney Steve Mulroy requests the Tennessee Bureau of Investigation to conduct a use-of-force investigation surrounding the arrest, the bureau announced less than 24 hours after the incident. Memphis is in Shelby County.
10 January: Tyre Nichols "succumbed to his injuries," the Tennessee Bureau of Investigation said.
14 January: Tyre Nichols' family holds a memorial event at which they display a photograph of Mr Nichols that shows him intubated and his face badly beaten, the Memphis Commercial Appeal reported. A subsequent protest takes place at a police precinct.
16 January: The family retains civil rights attorney Ben Crump, known for representing families in some of the United States' most fraught cases including those of Trayvon Martin and George Floyd. Mr Crump immediately calls for the release of video from the Nichols encounter captured by police body and vehicle dashboard cameras.
20 January: The Memphis Police Department fires the five officers involved.
23 January: Ben Crump and Tyre Nichols' family view the police video. Mr Crump later says it reminded him of the video of the beating of Rodney King.
24 January: The city of Memphis announced two fire fighters involved in the incident were relieved of duty pending an internal investigation.
25 January: Memphis Police Chief Cerelyn Davis releases a video statement calling the treatment of Tyre Nichols "failing of basic humanity."
26 January: The five officers are charged with second-degree murder.
27 January: Police video of the incident is released to the public.