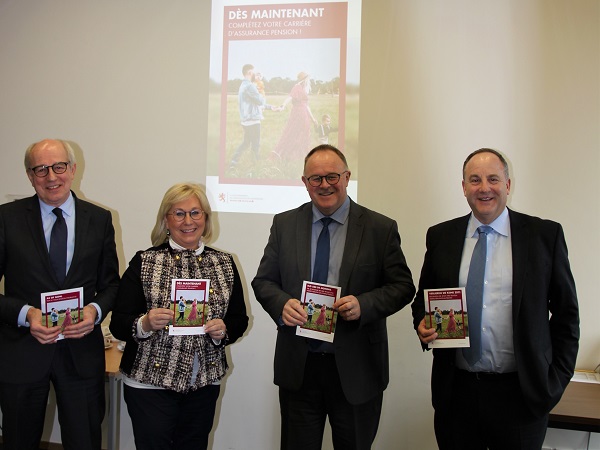 L-R: Fernand Lepage, CNAP President; Danielle Becker-Bauer, CNFL President; Romain Schneider, Minister of Social Security; Claude Seywert, CCSS President; Credit: MSS
Luxembourg's Ministry of Social Security, in collaboration with the National Council of Women of Luxembourg (CNFL), has published an updated brochure on pension insurance; the brochure is available in several languages including English.
This brochure explains how any person who interrupts or reduces their professional activity, in particular to get involved in their child's upbringing, may one day benefit from a pension better suited to their situation. It also takes into account a newly introduced measure in the divorce proceedings for the irremediable breakdown of marital relations.
In the hope of reaching the greatest number of insured persons concerned, the Ministry of Social Security and the CNFL have published this brochure in English, Luxembourgish, German, French and Portuguese.
At a press conference yesterday held earlier today, Luxembourg's Ministry of Social Security Romain Schneider presented the brochure, which forms part of a broader awareness campaign provided for in the government programme. Minister Schneider specified that this campaign "is part of a desire to make improvements according to the specific needs of the insured, while adapting to the evolution of society".
These brochures are available to policyholders, in particular at the Ministry of Social Security, the National Pension Insurance Fund (CNAP), the Joint Social Security Centre (CCSS) and the CNFL, as well as Luxembourg's municipalities.
A digital version will also be available on the following websites: www.mss.gouvernement.lu (Ministry of Social Security); www.cnap.lu (CNAP); www.ccss.lu (CCSS); www.cnfl.lu (CNFL).