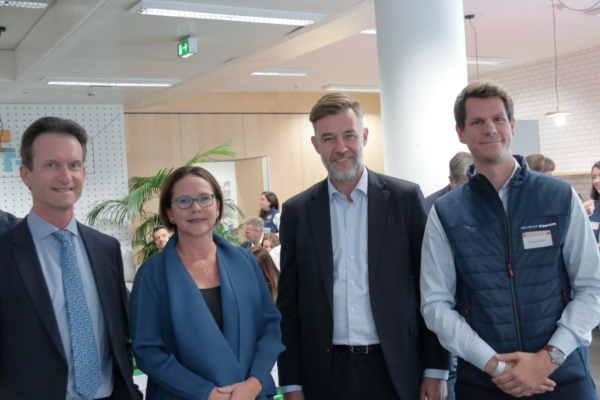 (L-R) Carlo Thelen, Director General of the Luxembourg Chamber of Commerce; Yuriko Backes, Luxembourg's Minister of Finance; Franz Fayot, Luxembourg's Minister of the Economy; Philippe Linster, CEO of HoST; Credit: Kangkan Halder / Chronicle.lu
On Friday 16 September 2022, the House of Startups (HoST), an innovation campus launched by the Luxembourg Chamber of Commerce in 2016, celebrated its sixth anniversary in the presence of Luxembourg's Minister of Finance, Yuriko Backes, the Minister of the Economy, Franz Fayot, and the Director General of the Luxembourg Chamber of Commerce, Carlo Thelen.
Philippe Linster, CEO of HoST, welcomed over 100 participants to the opening of this event at HoST on Rue du Laboratoire in Luxembourg-Bonnevoie. The premises are spread over five floors over an area of 6,000 m2 with a modern office and IT infrastructure at the disposal of entrepreneurs and startups. It houses incubators, accelerators and innovation hubs, including the Luxembourg House of Financial Technology (LHoFT), the Luxembourg-City Incubator (LCI), Le Village by CA and the International Climate Finance Accelerator Luxembourg (ICFA).
Carlo Thelen congratulated the HoST team on its anniversary and, recalling the idea behind the creation of HoST, i.e. to host creative minds and incubators under one roof, described it as "a strategy which is clearly successful". He noted that HoST currently hosted over 170 startups and more than 240 entrepreneurs - taking up approximately 90% of its maximum capacity. Mr Thelen also mentioned that the HoST has grown over the years and gained support from different ministries, and plays an important role in developing future entrepreneurship and the startup ecosystem. He also noted the success of LHoFT, LCI, Le Village by CA and ICFA, as examples of cooperation and synergy between key players in the startup ecosystem and innovation. Given the overall success of HoST, he announced that the Luxembourg Chamber of Commerce has decided to renew its funding for HoST for another six years.
Minister Fayot congratulated Philippe Linster and recalled that the latter had helped grow HoST from about 120 startups in 2020 to over 170 by 2022. Minister Fayot recognised HoST as a key player in supporting startups and representing their concerns. He argued that given that one crisis has followed another since 2019, innovation and startups help build economies in difficult times and make them more resilient. He was satisfied that the Luxembourg startup community was developing extremely well given all these crises, difficulties and volatile times. He congratulated HoST on persuing this endeavour to make Luxembourg more attractive to startups and to "shape the face of tomorrow". Minister Fayot confirmed that his ministry and the Luxembourg government is fully committed to and supported the promotion of innovation, research and development, digitalisation and climate change solutions.
Minister Backes also congratulated HoST on its sixth anniversary, and given the economic difficulties felt now all over Europe, recalled the three tenants of the Ministry of Finance, which follows closely the entrepreneurship and startup ecosystem at HoST, namely digitalisation, sustainable finance and the FinTech ecosystem. She also recalled five new priorities she set as the Minister of Finance, which fit with those of HoST: promoting diversity, encouraging talent, FinTech and green finance, the development of the regulatory framework and the development of mutual solutions. Taking note of the success of HoST, she said: "HOST encourages cross-pollination of ideas" and "buzzes with life and activity."
The event continued with a round table discussion with Nasir Zubairi, CEO of LHoFT, Bastien Berg, CEO of LCI, Amelie Madinier, Director of Le Village by CA, and Stephan Peters, CEO of IFCA, and was moderated by Philippe Linster. Participants discussed the role and success of various incubators.
Following keynote speeches by a few of the growing and successful startups, the evening concluded with a garden party promoting networking with over 250 participants.