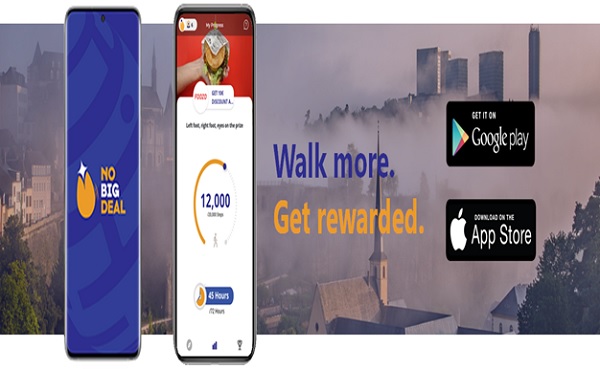 Following recent announcements of their partnerships with Adidas and Luxair, among others, Luxembourg startup No Big Deal has now secured €465,000 in capital investment.
In just one year, the startup has encouraged 40,000 people in Luxembourg and Belgium to walk over one billion steps through its health rewards app. The startup offers walking challenges that users undertake to achieve exclusive rewards from brands and to help the environment.
This latest funding round, led by LBAN and including Business Angels in Luxembourg and Ireland, will enable the team to further develop their wellbeing achievement app and expand their market presence in other regions.
"It's amazing to see the impact the app has on people – not just by encouraging more steps, but by bringing purpose and achievement to everyday wellbeing; this investment will enable us to take that impact to another level", Nigel Bergstra, co-founder of No Big Deal, told Silicon Luxembourg.
No Big Deal have already started working on their plans: they have grown the development team and are implementing a new, immersive user experience with branding to match. Whilst the focus will still be on daily or weekly challenges, they want to encourage people to interact with the app on a more long-term basis by adding gamification and an additional set of challenges.
"It is crucial to offer a differentiated experience to our users in an era where hundreds of mobile applications pop up everyday. Leveraging new technologies and a brilliant in-house engineering capability, we have an opportunity to create an impactful product that will become a must have for our target market", said Quentin Delforge, co-founder.
By adding diversity to the wellbeing challenges and bringing dynamic interactions to the user experience. the startup hopes to engage users in a more holistic way.
The decisions on which direction to take were made following feedback from extensive user discovery. No Big Deal surveyed hundreds of users and had detailed conversations with several top users about why they used the app and what they got out of taking part in the challenges.
Future challenges are likely to be more experienced- and sustainability-based, with opportunities for more community-wide initiatives.