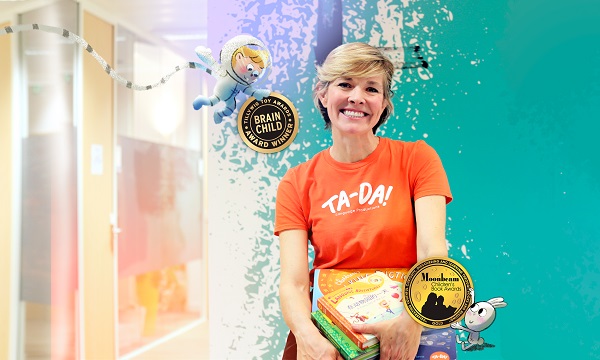 Michelle Glorieux, Co-founder & CEO of Ta-Da! Language Productions; Credit: Ta-Da! Language Productions
Ta-Da! Language Productions, an educational technology startup set up in Silicon Valley (California) and based at Luxembourg's House of Startups, has announced the launch of its crowdfunding campaign on Kickstarter for its "Children's Talking Dictionary".
Created by a Grammy winning EdTech startup team, the Children's Talking Dictionary in English is the first of its kind: a new genre sound book designed as the first touch, screen-free language learning experience for children aged six and up. The team described their creation as "an iPad® without the screen".
The dictionary is an interactive tool for learning language, designed for native and non-native English speakers alike. It includes 1,000 words (the minimum number shown to be necessary for conversation in another language), over 10,000 sounds (custom sound effects, cultural facts and vocabulary) and up to 23 randomised native speakers per word sharing the correct pronunciation of words. In addition, there are five levels of seek and find game play on each spread.
Michelle Glorieux, Co-founder, CEO and language teacher at TA-DA! Language Productions, commented: "I wish I had this book when I was a kid. I created what I wanted not only for myself but also for my son and my language students".
In exchange for pledging to the project, backers can gain access to a variety of rewards including a digital download of the detective paper dolls (starring the detective from the talking dictionary series) for $15, a digital deck of vocabulary cards for $25 and the Children's Talking Dictionary, which is available in English, for $56. Consumers can also pre-order the dictionary until 9 June 2021.
Moreover, TA-DA! is partnering with various charities to provide access to key educational tools and get books into children's hands. The chosen charities are the CDA – Centre pour le dévelopment des apprentissages in Luxembourg, Ophelinat Mama Koko in the Democratic Republic of Congo), the Karat School Project in Ivory Coast and HopeEthiopia, Inc. in Ethiopia. Once the initial Kickstarter goal is reached, TA-DA! will donate a portion of the proceeds to these charities.
At the time of publication, the Kickstarter campaign had reached over half ($6,905) of its $12,000 goal, through the support of 46 backers. For further information and to back this crowdfunding campaign, visit www.tadalp.com.