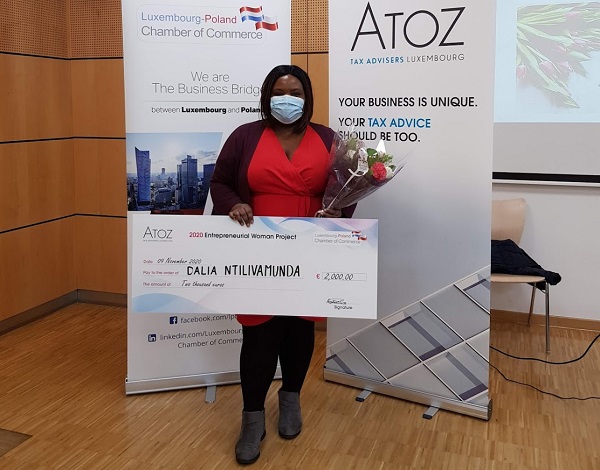 (Above) Dahlia Ntilivamunda, 1st Prize Winner of EWP 2020; (below, L-R) Malgorzata Basinska (2nd Prize), Dahlia Ntilivamunda (1st Prize) and Despoina Kiltsopoulou (3rd Prize); Credit: Jazmin Campbell
The 7th Entrepreneurial Women Project (EWP), organised by the Luxembourg-Poland Chamber of Commerce (LPCC), came to a close on Saturday 7 November 2020.
The increasingly popular six-week training programme went ahead this year in an adapted format in line with COVID-19-related restrictions. Rather than the usual 30 or so participants, this year brought together a more intimate group of fifteen entrepreneurial women from various backgrounds. What united them all was the desire and drive to pursue their dreams and move away from the daily grind.
Over six Saturdays, these motivated (and motivational) women came together in the youth hostel in Luxembourg-Pfaffenthal to learn the basics of setting up and running a business in Luxembourg, from intellectual property, VAT and taxes and marketing to dressing for success, public speaking and project management. There was also ample opportunity to put what they learned from the various trainers into practice, particularly when it came to the business model canvas, idea generation and the ever-important business plan.
Due to new coronavirus restrictions, the Grand Finale and Award Ceremony, initially scheduled to take place on Monday 9 November 2020 at the headquarters of ATOZ Tax Advisers Luxembourg, were instead held during the final training session in an intimate ceremony celebrating everything the participants had learned and achieved over the past six weeks. The last day began with a networking session, followed by the eagerly anticipated final presentations where participants presented their business ideas.
It was up to the participants themselves to judge one another's presentations and ultimately choose the three EWP 2020 winners: Dahlia Ntilivamunda won 1st prize (€2,000), sponsored by ATOZ Tax Advisers Luxembourg; Malgorzata Basinska won 2nd prize (€1,000), sponsored by the Ireland-Luxembourg Chamber of Commerce (ILCC); and Despoina Kiltsopoulou won 3rd prize (€500), sponsored by the Luxembourg Times.
Just before this year's winners were revealed, special guest Gosia Kramer, Founder and CEO of The Office Luxembourg, shared her own experience as an entrepreneurial woman.
Whilst there could be only three official winners, each of the presentations were a testament to the hard work and commitment of all participants. As Artur Sosna, LPCC Chairman, said: everyone was a winner.
Business Ideas
Dahlia Ntilivamunda (1st): An online marketplace for East-African products
Malgorzata Basinska (2nd): Saving hospitality by bringing along technology and finance
Despoina Kiltsopoulou (3rd): Educational programmes in Biology to increase awareness and challenge the perception of how natural processes impact us
Riya Gupta: Souls of Meraki: The Evolution of Creativity - A centralised platform for creative entrepreneurs to launch their products / services and connect with users looking for such products / services resulting in fulfilment of the needs of customers, on the go
Jolanta Czuba: Ride More Protection: bringing colours to the streets. Equipment for bike, scooter and BMX
Magdalena Ksel: Sport community raising awareness around the benefits of being active as a source of well-being and balance
Mayela Villarreal: An authentic Mexican food experience including take out, catering and cooking classes
Cherry Kent: The Cherry Orchard: employability workshops for expats and students, and retention management solutions for businesses
Jazmin Campbell: Leveraging online media to reach the international community
Sonata Kucin: Solution for how to improve interdepartmental communication and increase the efficiency of the team, department and entire organisation through Mentoring Culture
Marzena Ewa Dzierlega: Eating well as a form of self-respect and first big step to taking care and responsibility of ourselves
Valeria Pezzino: Gaming nostalgia
Julie Augerot and Anna Palejko also participated in this year's edition, although they were unable to attend the final training session.