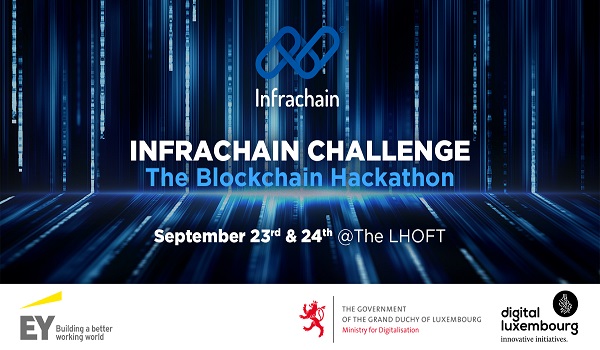 The first Infrachain Challenge, a hackathon dedicated to the Public Sector Blockchain, will be taking place on Wednesday 23 and Thursday 24 September 2020 at The LHoFT.
Teams from Filedgr, Neofacto, PwC-Tokeny and Stampify will give their all during 30 hours to come up with an innovative new application for the Public Sector Blockchain developed by the Ministry for Digitalisation. At the end of their two-day coding marathon, teams will pitch their projects in front of a jury of blockchain and public sector experts.
The jury is chaired by Gaston Schmit, First Government Counselor at the Ministry for Digitalisation. who will be joined by Carlo Gambucci, Director at Syndicat Intercommunal de Gestion Informatique (S.I.G.I.), Ajay Bali, Associate Partner - Digital Advisory Services at EY Luxembourg, Biba Homsy, President of the Board of LëtzBlock, Maria Mateo Iborra, Co-founder of Ibisa Network, and Dr. Djamel Khadraoui, Head of Trusted Service System Research Unit at the Luxembourg Institute of Science and Technology (LIST).
Gaston Schmit commented: "Blockchain technologies will change business processes. Last year, the Ministry for Digitalisation launched the Public Sector Blockchain to allow the development of blockchain applications for the public sector. As sponsor of the Infrachain Challenge, the Ministry for Digitalisation may provide a contract to a winning team. I look forward to discovering new and innovative ideas that have the potential to be turned into real projects".
Strict COVID-19-related sanitary measures will apply at the hackathon, namely a limited physical presence, work and break spaces set up to allow for social distancing and the distribution of KN95/FP2 masks and sanitary gels.
All presentations of the opening, as well as pitching and closing will be streamed online, since physical access will be restricted. The first virtual session will start on 23 September at 09:00 with a key note speech from Prof. Dr. Gilbert Fridgen, PayPal-FNR PEARL Chair in Digital Financial Services and Delegate to the European Blockchain Partnership, SnT - University of Luxembourg.
On 24 September, the teams will pitch their projects at 16:00. This will be followed by expert presentations from Juho Lindman (Associate Professor of Informatics, University of Gothenburg - Sweden), Luis Muñoz (Professor, Dept. of Communications Engineering, University of Cantabria – Spain) and Adnan Imeri (Researcher, Luxembourg Institute of Science and Technology).
Further information and free registration is available at https://challenge.infrachain.com.