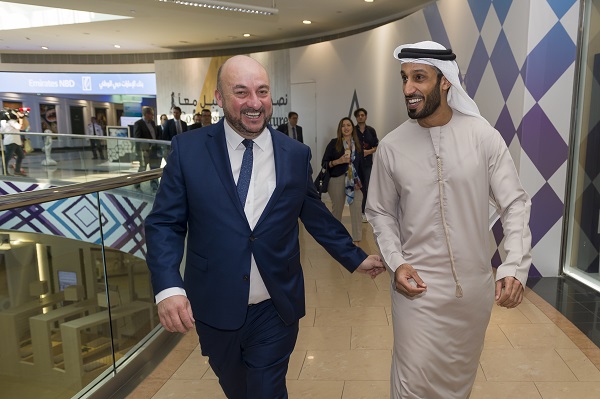 L-R: Étienne Schneider, Luxembourg's Deputy Prime Minister, Minister of the Economy and of Health; Khalfan Belhoul, CEO of Dubai Future Foundation; Credit: © SIP / Jean-Christophe Verhaegen, all rights reserved
Luxembourg's national agency for the promotion of innovation and research, Luxinnovation, today signed a cooperation agreement relating to startups with the Dubai Future Foundation, an innovation agency supported by the government of Dubai.
This agreement was signed in the framework of Luxembourg's economic mission to the United Arab Emirates (UAE), chaired by His Royal Highness the Hereditary Grand Duke and led by Deputy Prime Minister, Minister of the Economy and of Health, Étienne Schneider, taking place from Monday 27 to Wednesday 29 January 2020.
The agreement will enable startups and technology companies in Luxembourg to access Dubai's development and funding programmes, as well as various Dubai Future Foundation hosting infrastructures.
In addition, Luxembourg's Minister of Finance, Pierre Gramegna, met with his UAE counterpart Obaid Bin Humaid Al Tayer to strengthen financial relations between the two countries. Discussions focussed on bilateral relations, the opportunities and challenges of the digitalisation of financial services and the latest developments in international taxation. Minister Gramegna commented: "Luxembourg and the United Arab Emirates have excellent relations in the financial sector. We agreed to further strengthen collaboration between the two countries, particularly in the area of ​​Fintech and sustainable finance".
Pierre Gramegna, together with his delegation including Nasir Zubairi, the CEO of LHoFT, also had an extensive exchange of views with representatives of the UAE Fintech sector on the latest developments and trends in the field of financial technologies in the Middle East and North Africa (MENA) region and they took stock of the current state of activities in this area between Luxembourg and the UAE. In addition, Minister Gramegna and the Hereditary Grand Duke had meetings with investors and senior officials from the region's financial sector.
For his part, Étienne Schneider, accompanied by the Hereditary Grand Duke, attended a seminar dedicated to investments and financing in the space sector in Abu Dhabi. During his speech, Minister Schneider said: "Luxembourg and the UAE share the same commitment to support the economic development of the commercial space industry. This seminar further strengthens our bilateral cooperation with the UAE for the development of products and services related to high space technology by acquiring financing instruments adapted to the needs of private companies".
The Hereditary Grand Duke and Ministers Étienne Schneider and Pierre Gramegna then met the Crown Prince of Abu Dhabi and head of the UAE armed forces, Sheikh Mohammed bin Zayed Al Nahyan. During a lunch, they also had a meeting with the Minister of Tolerance, Sheikh Nahyan bin Mubarak Al Nahyan.
At the end of the first day of the economic mission, the official delegation visited the Louvre Abu Dhabi, one of the main attractions in Abu Dhabi (https://www.louvreabudhabi.ae/).