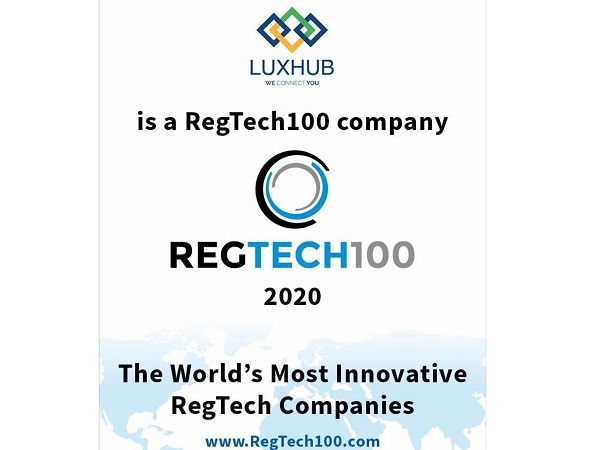 LUXHUB, a European Open Banking API Platform hosted in Luxembourg, today announced its appointment as one of the 100 most innovative RegTech companies in the world.
Eighteen months since its creation in May 2018, LUXHUB has been recognised as a REGTECH100 Company, ie one of the world's top 100 innovative RegTechs. Indeed, RegTech Analyst, a specialist research firm, recognised LUXHUB as one of the world's most innovative technology solution providers addressing the challenges and opportunities of dealing with regulatory issues within financial services.
Since its creation, LUXHUB has been growing fast and evidenced its ability to provide top-notch services. LUXHUB's specificity has been to put together the banking knowledge with the agility of a start-up. Its purpose is to help the entire digital ecosystem to take advantage of the challenges and opportunities of Open Banking related initiatives.
To do so, LUXHUB first developed an XS2A interface to help banks and e-money institutions in their PSD2 compliance journey and has in this context be designated as the secnd largest European Open Banking Hub at the EBA Day 2019. This was followed closely by the launch of LUXHUB One API, which is an integration layer giving access to any bank via a unified API for aggregation purposes. Finally, LUXHUB is building an innovative financial API one-stop-shop, the LUXHUB Marketplace.
The nomination of LUXHUB by the RegTech Analyst is, in this context, seen by LUXHUB's management as "further proof of LUXHUB's growing international recognition as an industry-leading provider in the API Economy".
The management explained: "REGTECH100 is an annual list of 100 of the world's most innovative RegTech companies. [...¨] The list has been updated for 2020 to recognise the next-generation of solution providers shaping the future of the compliance, risk management and cybersecurity industries. [It] aims to help senior management and compliance professionals evaluate which solutions have market potential and are most likely to succeed and have a lasting impact on the industry".
The full REGTECH100 list is available at www.RegTech100.com.