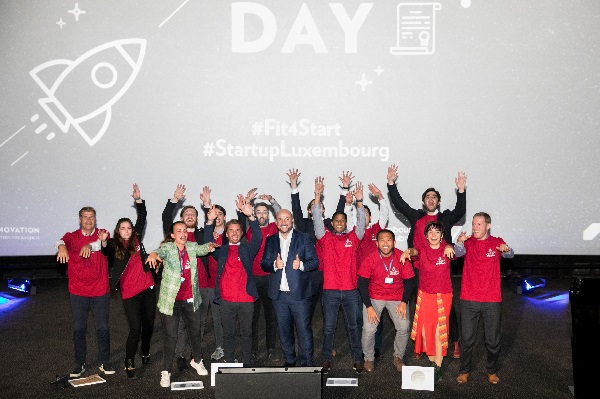 Credit: Luxinnovation
On Thursday 3 October 2019, more than 400 young startups and leading players in the start-up ecosystem attended the 9th Fit 4 Start Selection & Graduation Day at Kinepolis Kirchberg.
Almost 80 start-ups from all over the world gathered for a full day of pitching their solutions in four minutes to one of the three juries of the 9th Fit 4 Start.
For this autumn edition, the Fit 4 Start programme, managed by Luxinnovation with the support of the Ministry of the Economy and in collaboration with Technoport and the Luxembourg City Incubator, the Luxembourg Space Agency and the House of BioHealth, offered three different categories: ICT, health technologies and space.
In his speech prior to announcing this edition's selected startups, Deputy Prime Minister, Minister of the Economy and Minister of Health, Étienne Schneider, stated: "The Fit 4 Start Selection & Graduation Day has become the key event on the agenda of Luxembourg's start-up ecosystem".
One of the highlights of the evening was a speech by Peter Platzer, CEO of Spire, a company active in the space sector that will give access to its "data lake" to the startups selected for the space category: "There is no investment in space, but there is investment in companies trying to solve problem on Earth using space. Space is a medium and not the product".
In the end, 20 start-ups (ten from the ICT, five from the HealthTech and five from the space field) out of nearly 300 applications were selected by the jury members to participate in the 9th edition of Fit 4 Start. All these companies will join the 16-week coaching programme starting next month and will receive a €50,000 subsidy from the Ministry of the Economy. These were (in alphabetical order) as follows:
ICT
Anote Music (Luxembourg); CheckMath (Luxembourg); Cubbit (Italy); DataCue (Singapore); I-Warranty (United Kingdom); Quantego (Luxembourg); Rebolet (Germany); Symvio (Luxembourg); Vocally.fm (Italy); WearHealth (Germany);
HealthTech
Cohesys (Canada); Nium (Luxembourg); Nutrihumix (Luxembourg); Sanascope (Germany); ViewMind (Argentina);
Space
3Dfarms (United States); GlobeEye (France); Ilumbra (Luxembourg); RespectUS (Luxembourg); WEO (Germany).
The Selection & Graduation Day was also an occasion to reward startups who successfully completed the Fit 4 Start #8 programme after four months of intensive coaching. As the rules of the competition specify, their successful graduation gives them access to an additional €100,000 subject to a capital raising of at least €50,000. The six graduates of Fit 4 Start #8 were: Abar; F4A; FireFly; Gamma AR; RoomMate; Rafinex.