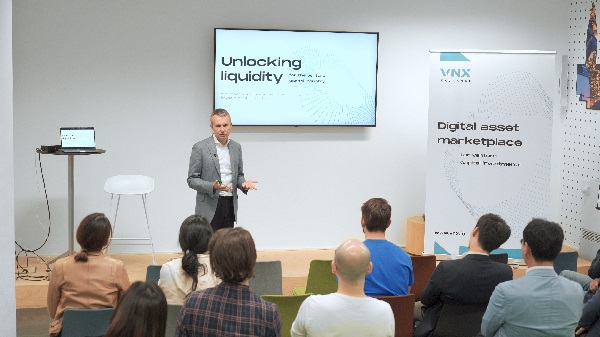 Alexander Tkachenko, CEO of VNX Exchange; Credit: VNX Exchange
VNX Exchange, a Luxembourg-based company that uses blockchain technology that allows the tokenisation of venture capital funds, recently invited a delegation of ten startups from South Korea to Luxembourg in order to further tighten the bonds and allow exchanges between both countries.
The two countries have been promoting cross-border cooperation through a series of events and diplomatic and economic missions for many years. The most recent example was a special gathering between the CEOs of ten leading South Korean startups (Amuse Travel Co.Ltd, Cast-U, Cookie Langs, Data Driven Cares, Dtonic Corporation, IoTrust Co., Ltd. Mind Lab Inc., NOTA Inc. Ratios LLC) which were selected by ASEIC, Asia-Europe Meeting's Eco-Innovation Center for small and medium businesses. ASEIC performs as a bridge between Asia and Europe through facilitating a program for the green competitiveness of SMEs in ASEM member countries.
The Luxembourg Trade and Investment Office in South Korea and leading members of Luxembourg's investment ecosystem also took part in the event. Among them were the 2be.lu venture capital fund, VNX Exchange, a Luxembourg-based marketplace for venture capital investments, and their close partner for South Korean relationships, Luxembourg based consulting company LUXKO.
On this occasion, Alexander Tkachenko, the CEO of VNX Exchange, spoke about new approaches to alternative investments that became possible with the help of blockchain and other new technologies. An offshoot of 2be.lu, VNX Exchange is a unique platform for trading tokenised venture capital funds' portfolios. It was created with a mission to encourage entrepreneurship and innovation by solving a real market problem that VC funds face - locked up liquidity. Tkachenko explained that venture capitals invest in startups and often wait for years for a portfolio company to go public or be acquired. VNX Exchange solves that problem by tokenising VC funds' startup portfolios and offering them up for trading on its platform where institutional investors can buy them. The money that venture capital funds get in return can later be used to invest in more startups.
This idea resonated with the top management of South Korean startups who came to the event in an attempt to learn more about Luxembourg and key problems that Luxembourg-based innovative companies are trying to solve globally. Many found that tokenising venture capital was an ideal idea for the South Korean market. Indeed, South Korean startups have long been looking at Luxembourg and local players with global ambitions as they sought to enter the European market. VNX Exchange has actively supported the work between South Korean startups and investors and their Luxembourg counterparts.