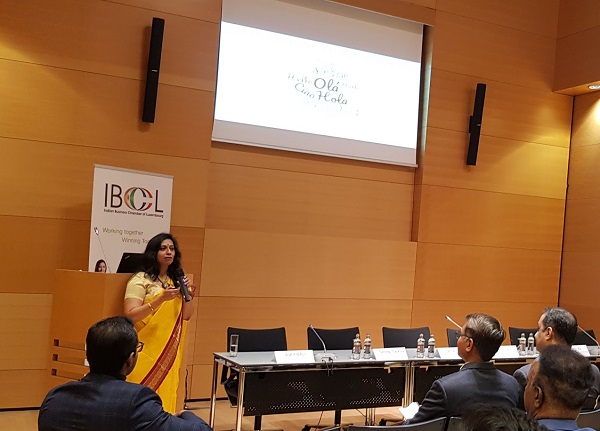 Veena Samartha, CEO of VeCrear Technologies; Credit: Jazmin Campbell
On Wednesday evening, the Indian Business Chamber of Luxembourg (IBCL) held a conference on "ICT/IoT Opportunities & Impact – Luxembourg: Gateway for Global Cooperation" at the Chamber of Commerce in Luxembourg-Kirchberg.
The event brought together local and international ICT and Internet of Things (IoT) experts and was composed of keynote speeches by Veena Samartha, CEO of VeCrear Technologies (Bangalore, India), and Christian Paun, Business CIO of DuPont (Luxembourg). followed by a panel discussion with Christian Paun, Ajay Bali, Associate Partner at EY Digital Advisory Services (Luxembourg), Georgi Taskov, CEO of Enovos S.A. (Luxembourg), Omar Qaise, CEO of OQ Technology (Luxembourg), John Sharpe, Delivery & Operations Director at Digital Barriers (UK), and Ganesh KJ, Executive Director & COO of VeCrear Technologies.
In his introduction, Anil Nair (Vodafone), traced the origins and evolution of IoT, before discussing the challenges and approaches used to face these challenges. He emphasised that IoT is "all about bringing [...] things together". Regarding the challenges, Mr Nair cited bespoke solutions, privacy and security aspects and a lack of interoperability, among others. He also presented some of the currently available approaches to address these challenges, namely interoperability forums and digital twins and dating services (the latter connecting things together in coordinated way). He concluded that "a single entity cannot provide the solution required" and left audience with the questions: What do we need to do together for our economy and how do we coordinate?
In her keynote speech, Veena Samartha, a successful female entrepreneur with over 20 years of experience, discussed the evolution of IoT. Originally described as "adding a connectivity module and making a device smart", IoT has become a part of everyday life even in the remotest areas, from the agricultural sector to healthcare. She also used the examples of smartphones and smart cities, the latter encompassing aspects such as waste management, traffic control and smart lighting and heating. Like Anil Nair, she emphasised the importance of amalgamation, "the buzzword that needs to happen".
Discussing the role played by Luxembourg in all this, Veena Samartha recognised the Grand Duchy as a place to test innovative policies and solutions, for example in the field of self-propelled vehicles. She later highlighted how Luxembourg has robotic solutions for cargo transport and is "the perfect place" for investment in intelligent software and self-learning capabilities.
Nevertheless, she looked at the challenges as well as opportunities brought by IoT, which is "by definition a customised solution" and "a huge opportunity for all to co-exist, innovate and create successfully". However, the challenge of standardisation and interoperability remain - although she added that Luxembourg is "well poised" to face these challenges. In her final remarks, Ms Samartha recalled the importance of looking at responsible and sustainable IoT solutions, and that this applies not just to politicians but to every individual in the ecosystem, from consumer to creator.
For his part, Cristian Paun, a "change maker" with significant experience in RPA, AI and IoT, discussed the enablers of IoT, which has only really taken off since 2000. He added that cost reduction can only be seen from 2014 onward and that now we can connect to many more devices than before thanks to 4G and soon 5G. He went on to look at the global IoT market, which is estimated to have a potential of USD $1.1 to $1.9 trillion by 2025. In Luxembourg, the banking and insurance sectors appear to have huge potential for IoT and, according to Mr Paun, Luxembourg has "the potential to become a global hub".
Regarding the main benefits of IoT, Mr Paun cited a US survey which showed that cost savings from operational efficiencies and new/better streams of data for decision-making were the top two potential benefits. Similarly, data from 2019 showed that IoT would have a cost-saving and/or revenue-generation impact.
Christian Paun also tried to break down the IoT ecosystem, which includes integration, IT management, analytics and security services plus hardware (although not so much in Luxembourg), software and rules. Although complex, he argued that by "connecting the dots right, [we] can reap lots of benefits". Returning to the role of Luxembourg, Mr Paun said that "government willingness to invest is there", but that above all Luxembourg had potential with its industry and startup groups.
The event continued with a panel discussion, moderated by Anil Nair, during which the panellists discussed how Luxembourg can bring IoT players together to create global solutions. Ajay Bali kicked things off by recalling that there is a huge market and a lot of customer demand out there, but the challenges of security, connectivity and interoperability remain. He added that there are "multiple solutions, not one standard solution". For his part, Christian Paun recalled that it is "not just about scaling up but also real implementation", ie real value. He cited the examples of predictive maintenance and improving one's inventory. For his part, John Sharpe emphasised how moving to Luxembourg had helped his UK-based tech firm understand where their IoT can really add value and enabled him to interact with the global supply chain. He emphasised that Luxembourg has a "culture for embracing innovation from overseas and targeting that in an international market".
The panellists concluded that Luxembourg is already doing a lot to foster this ecosystem, although Georgi Taskov mentioned that Luxembourg invest more in hardware production for R&D purposes. He also highlighted the opportunities open to Luxembourg in investing in "making devices using satellite connectivity or making sensors for space. Concerning tangible, practical solutions for consumers, Christian Paun cited the example of autonomous buses, which are already in production and being tested, whilst Ajay Bali mentioned the idea of smart metres in houses to better manage bills, a concept to be mandated in a few months time.