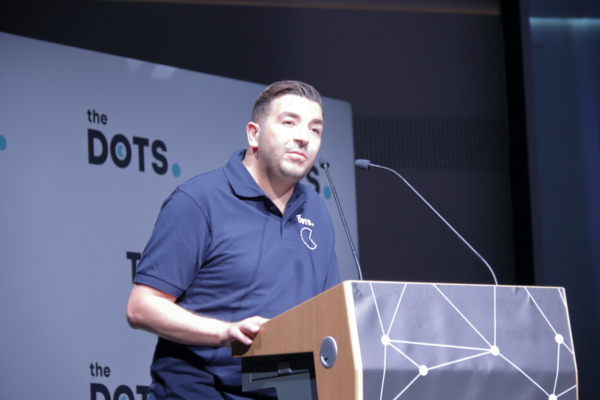 Kamel Amroune, CEO, The Dots; Credit: Kangkan HALDER
On Wednesday 18 May 2022, Luxembourg-based TechSense agency by The Dots organised the Finverse Forum to discover the world of non-fungible tokens (NFTs) and augmented and virtual realities with over 35 guest speakers from various technology fields at the CELO multifunctional centre in Hesperange.
The event was aimed at offering a better understanding the world of Finverse, a virtual sphere between the metaverse and the crypto, and an in-depth view on its role and application in the financial universe. The event brought together over 100 in-person participants including entrepreneurs, investors, collectors, artists, lawyers and regulatory representatives.
The Finverse Forum was opened with a welcome speech by Kamel Amroune, CEO, The Dots. John Karp, CEO of NFT Factory, participated through webcast and shared his experience of the evolution of NFTs. He discussed the proprietorship of digital assets, certified by a NFT and the possibility of the use of these digital assets under various circumstances in the online world, for example in a virtual world, commonly referred to as the metaverse.
Prof Diana Derval, Chair of DervalResearch, a research firm specialising in human behaviour and preferences, shared her vision of NFTs in a video message titled "NFTs Playground: From Panini to Banksy". Prof Derval explained that in stage zero, NFTs were proof-of-concept and mostly speculative, while is the current stage, around stage one, the purpose of NFTs has transformed into mostly showing-off and a declaration of digital ownership. She argued that soon, around stage two, NFTs could be "rented-out", similar to a "badge" or a "skin" in a video game. She also pointed out that although currently in its infancy, "fandom" around sports and celebrities would be able to offer NFTs as collectibles and other digital merchandise.
Prof Derval expected that in stage three, NFTs will be more about usefulness and usability and have to be cost effective and sustainable. It will also likely attract "transaction fees" with NFTs changing hands and ownership. However, she cautioned that NFTs have to be innovative and consume fewer resources in future. She also mentioned that the metaverse, slowly growing into a hyper-realistic virtual world, is different from NFTs; it is more of an enabler of NFTs inside the metaverse. She concluded that both NFTs and the metaverse have a lot of uncertainty ahead but also a lot of opportunity, and people have to be careful about their usability.
The morning session continued with an introduction to three NFT and crypto developers displaying their products. Mehdi El Mansouri, COO, and Abdelkader Mouloudjo, CEO of METACARD, said that most first-time users find it difficult to manage crypto wallets, perform acquisition of digital assets and NFTs, and work with various decentralised cryptocurrencies. They proposed METACARD as a possibility for personalised gift cards with collectible digital assets and NFTs, which will have intrinsic value and can be stored or transacted.
Jesus Pena, CEO of Nexify, based in the United Kingdom, wished to address the "liquidity problem" of NFTs and said that his company is working towards a NFT decentralised exchange (DEX) to transform NFTs into liquid assets, or in other words, building the first stock exchange for digital assets enabled by multi-platform, multi-protocol and multi-domain trading.
Matthieu Bracchetti, CEO of Virtual Rangers, based in Luxembourg, presented the various virtual reality applications which his company has developed, including training simulators and immersive virtual reality exhibitions. He also introduced the possibility to of acquiring "virtualy spaces" in the metaverse, where companies or individuals can highlight products, conduct meetings, create personal spaces and much more.
From 13:00, the Digital Asset Summit, organised jointly with VNX, addressed some concrete use cases and gave a voice to actors of the cryptoasset world such as Alexander Tkachenko (VNX), Michael Jackson (Arcane Crypto AS), Max Shin (Bithumb Custody) and Youngjun Jang (Edimus capital).
At 16:00, the conference "Metaverse, a new world of financial opportunities?", organised by Deloitte Luxembourg, was an opportunity to discover a selection of startups engaged in the tokenisation of assets. More specifically, attendees were able to meet BlocHome, a young company from Luxembourg that offers a new way to access the real estate market.
At 17:00, Luxembourg entrepreneur Xavier Buck will share his experience of investing in NFTs before handing over the stage to cryptoasset lawyer Biba Homsy for a roundtable session.
The forum will close with a networking cocktail followed by a VIP seated dinner.
The Dots announced that it would produce an NFT artwork in partnership with the French painter and sculptor, Raphaël Laventure, a digital asset that would be offered for sale in May 2022.