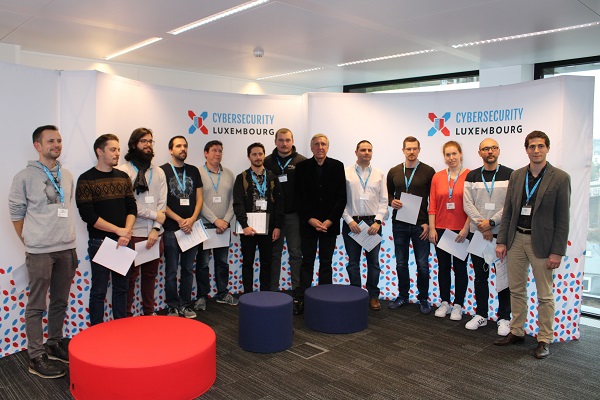 François Bausch, Luxembourg's Deputy PM & Defence Minister, surrounded by participants of the cyber exercise at SECURITYMADEIN.LU; Credit: Ministry of Defence
Luxembourg's Directorate of Defence has launched its "Cyber Range" platform, aimed at better protecting the Grand Duchy against cyber attacks.
The official launch took place on Wednesday as part of "Cybersecurity Week Luxembourg". It included a demonstration in the form of a cyber exercise, in the presence of Luxembourgs Deputy Prime Minister and Minister of Defence, François Bausch.
A cyber ​​range is a simulation platform allowing cybersecurity professionals to train and develop their expertise in identifying and responding to cyber attacks. It is a question of replicating and simulating a real environment in order to test and develop skills allowing teams to react quickly and effectively in the event of an attack. Cyber ​​Range users will be able to prepare themselves to better respond to an incident, conduct digital legal investigations, protect computer networks, test the hardening of systems or model types of threats.
The Luxembourg Defense Cyber ​​Range platform is hosted and maintained by the NATO Support and Procurement Agency (NSPA), within its secure data centres in Capellen.
The platform will be used in particular for national and international training and exercises and for the evaluation of new cyber defence solutions. It will be made available to authorities and operators of critical infrastructure in Luxembourg but also offered to partners and international organisations such as NATO and the European Union (EU). In addition, it can be used for teaching and research purposes.
Minister François Bausch also announced that a cooperation with the Cybersecurity Competence Center (C3) of the cybersecurity agency SECURITYMADEIN.LU has been initiated in order to complete the cyber training programme by developing an advanced training centre.
The Defence Minister emphasised that the Cyber ​​Range platform is an integral part in Luxembourg's defence effort and is the result of a work plan linked to the country's cyber defence strategy.
"With the increasing digitalisation of our society, the dependence on computer systems increases dramatically, as do the attempts to attack these systems. In order to secure IT systems and intercept these attacks, the State needs seasoned experts with state-of-the-art training and know-how. In order to achieve this goal, an installation like the Cyber ​​Range is essential", concluded Minister Bausch.